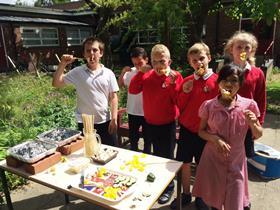 Health campaigners are celebrating after securing the government's word to reinstate the School Fruit and Vegetable Scheme in September.
Parents across the country were shocked after the government quietly dropped the scheme - which provides free fruit and veg to Reception and Year One pupils – citing waste concerns, with most children studying at home until this September.
Food and farming organisation Sustain, alongside the Soil Association led a campaign urging the government to commit to reinstate the scheme, calling its removal an "injustice to children, parents and farmers".
Over 2,000 people also signed a campaign on Change.org demanding the government reverse their decision.
Public health minister Jo Churchill announced yesterday however that the scheme would be returning in September in time for students' return.
The minister's statement follows months of campaigning from passionate parentHannah Cameron McKenna,food and farming organisations, parliamentary questions in both the House of Commons and the House of Lords.
Sustain's campaign also saw thousands of individual supporters writing to the secretary of state for education and secretary of state for health calling for the reinstatement of the scheme.
Campaigner Hannah Cameron McKenna said: 'I am delighted that the government have announced the reinstatement of the SFVS in the autumn term, providing all 4-6 year old with a fresh piece of fruit or veg every day.
"However, we are still waiting for clarification on where the funds that would have been spent on this scheme have gone. Given the recent news about malnutrition in children in England, it is imperative that the government make children's nutrition a priority. There is still lots of work to be done, and we shall continue to campaign for children's health and food security.'
Sofia Parente, sustainable food cities policy and campaigns coordinator at Sustain said: "The reinstatement of the School Fruit and Vegetable Scheme is good news but we need to continue to tackle historical low levels of fruit and veg consumption and under-investment in school food.
"The scheme should be expanded to all children in primary school as an important step in fulfilling the Government's commitment to halve rates of child obesity by 2030 as stated in the second chapter of the Childhood Obesity Plan. The quality of the produce also needs a boost.
"The scheme should be re-specified to provide a year on year percentage increase of British seasonal and certified sustainable produce, such as Organic or LEAF mark to help drive towards Government's aims in the Environment Bill, Agriculture Bill and climate legislation."