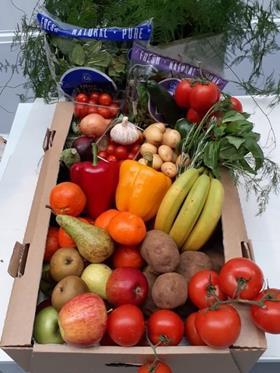 Wholesale and catering suppliers across the UK have launched home delivery services in an attempt to replace lost trade following the collapse of the restaurant and hospitality sectors.
With restaurants, pubs, hotels and other businesses forced to close amid the coronavirus outbreak to limit the spread of the virus, their fresh produce suppliers have been forced to think outside the box to stay afloat and continue to pay their workers.
In the space of just a few days in the latter half of March a number of companies including Nature's Choice, WestCountry Group, Class One, Oliver Kay and Delifresh switched their focus from wholesale to retail, offering home delivery of vegetable boxes to households in their area.
New Covent Garden catering supplier Nature's Choice has been particularly proactive and entrepreneurial in this regard. Commercial director Vernon Mascarenhas says the company has now lost all of its restaurant trade, as restaurants in London close their doors. By contrast, its deliveries to farm shops and delis have increased, but the company's main focus is now on home deliveries, demand for which is booming.
In addition, it has teamed up with restaurant group Corbin & King and event caterers Rhubarb, Bovingdons and Urban Caprice to supply NHS hospitals in London with 12,000 meals a day at cost price plus wages.
Within two weeks of launching the home delivery service, orders were exceeding 600 boxes a day and the venture is proving so successful that Mascarenhas wants to continue the home delivery service even after the coronavirus outbreak.
This spike in demand is thanks to two things, he says. Firstly, the supplier spoke about the company's change of tack on Jeremy Vine's show on Radio 2, and secondly, he has asked all his restaurant and business customers to redirect their diners and staff to the service while they stay at home. Facebook and Google are among the company's clients and they have advertised the home delivery service to their staff.
Despite such efforts, overall demand for catering suppliers' produce is down significantly, and many have been forced to lay off delivery drivers and other staff. For example, on 19 March New Covent Garden trader Harwoods of London announced it had laid off 90 per cent of its workforce "as restaurants have no trade in London".
Nature's Choice has kept this to a minimum and has already reemployed some staff that had to be laid off. "There's still a lot of work to be done but now I'm confident we can weather this storm," Mascarenhas says. "The hardest thing has been changing the way people think. Switching from restaurant to household deliveries is a challenge but it's possible if you can think on your feet."
The key is not to try to be a "mini Ocado", he says. "We haven't given customers much choice. They can choose between a small, medium or large mixed box of fruit and veg, with essentials such as milk, butter, bread and orange juice included, or order our Simply Fruit & Veg Box. If you try to complicate it much more than this, costs can get out of control."
Personally, Mascarenhas has experience in home delivery from his time managing Secrett's Farm but he admits it's logistically more challenging than servicing restaurants since you have to fulfil a larger number of smaller orders. The advantage is that you have a bigger delivery window. Whereas restaurant deliveries have to be made between 7am and 8.30am, Nature's Choice makes its retail deliveries between 6am and 1pm.
Looking for further business opportunities, the company is also going to team up with a meat supplier to offer joint deliveries of vegetables and meat, as well as joining forces with a couple of restaurants to offer deliveries of ready-to-cook meals such as shepherd's pies and moussaka.