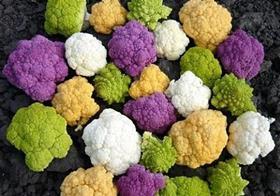 Colour is a hot topic over here. I'm talking, of course, about the #eattherainbow trend that has bloggers making beautiful ensemble plates, usually neatly and brightly segregated.
Produce naturally provides rich and vibrant colours but the breadth of SKUs on the US shelves offers this to the merchandiser as well as the consumer plate. Within categories there are many more opportunities here to display diversity, whether it's the yellow and green zucchini or the purple, yellow and red bunched carrots.
Cauliflower has been a massive trend on both sides of the Atlantic for a few years. If something can be made of cauliflower, it is – pizza bases, cheese sauce and buffalo wings are my favourite.
Trader Joe's cauliflower gnocchi has achieved cult status, aided by some strategic availability decisions, to the point where people actually race to the store when it opens to maximise their permissible 'quotas'. It's like Black Friday for dumplings.
Cauliflower in produce has all the usual prepared lines you could expect: cauliflower florets, mixed with broccoli, vegetable and soup mixes; cauliflower rice (obviously); and cauliflower steaks, which I saw had been extremely well received in the UK media.
The best thing – and tying into my comments on colour – in the eyes of my toddlers about American cauliflower is the proliferation of purple and orange cauliflower, which are merchandised together in cascading piles for visual effect.
My toddler loves the pink cauliflower rice, and they like eating the florets raw like pink trees. In general the vibrancy doesn't significantly diminish with light cooking either, which isn't true of some produce like chioggia beetroot, which is vibrant raw but unimpressive cooked.
Whether it's the external colour of golden raspberries or white eggplant or the internal colours of watermelon radish or blood oranges, the fact that a more significant proportion of product is naked, so to speak, probably also helps to emphasise colour.