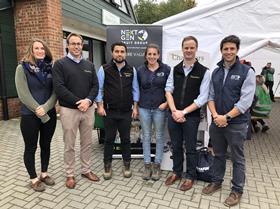 Maidstone-based berry producer Chambers has been sharing its knowledge with rising stars in fruit growing at an educational event for members of the NextGen Fruit Group.
The company welcomed the budding growers to its Oakdene Farm headquarters on 25 October, when it hosted a presentation and tour for the group – a networking and educational association of like-minded young fruit producers.
The tour took in Chambers' farm, its AA+ BRC-rated packhouse, and its recently built high-care prepared fruit facility, The Fruitery. Chambers claims to be the first specialist grower to open a facility of this kind.
The £2 million Fruitery division supplies fruit that is transferred from the field to chilled within one hour, building on the company's already streamlined supply model.
Fresh 'berry medley pots' are delivered direct from the grower, reducing food miles and extending shelf life by up to two days, according to the supplier.
Attendees were also given a talk on irrigation by Netafim, the Israeli manufacturer of irrigation equipment.
Commercial director James Miller said: "Chambers is 100 per cent committed to establishing a strong rapport with the emerging talent in the UK fresh fruit supply chain, whose professionalism and hunger for progress will help future proof our sector.
"In years to come, it is this generation that will be, in part, responsible for the evolution of the latest technological advances in the field and we hope that by sharing our examples of best practice we can work collaboratively to further enhance the end product and ultimately boost industry growth."
Chairman of NextGen Ben Bardsley added: "Friday's visit to Chambers perfectly showcased what NextGen Fruit Group represents: the coming together of bright, motivated and passionate young people within the fruit industry, networking and sharing ideas."