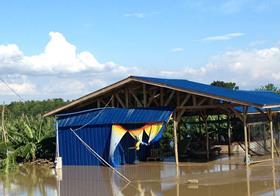 A charity calendar created by Harper Adams students has raised £920 for an agricultural university in the Philippines affected by one of the strongest tropical cyclones ever recorded.
Visayas State University in the city of Baybay, Leyte, was struck by Typhoon Haiyan in November last year. The storm killed thousands and left many without food and shelter.
Harper Adams students Rosa Malseed and Tom Heseltine saw the devastation caused by Typhoon Haiyan (known locally as Typhoon Yolanda) on the news, and decided that they wanted to help.
They chose to raise money for their counterparts at the university - one of the leading institutions in Southeast Asia for agricultural research, as students and staff had lost loved ones and some were left homeless.
21-year-old agriculture student Malseed from Dartmoor, Devon, came up with the idea of producing a calendar featuring agricultural-themed photographs taken by students.
She said: 'I was thinking that I would like to donate some money to victims of the storm and then heard about Visayas State University and thought it would be good for one agricultural university to help another agricultural university.
'We are delighted that the calendars have been such a success and that we have been able to raise a total of £920 for the university.'
Heseltine, 22 from Skipton, North Yorkshire, also studies agriculture at Harper Adams. He said: 'The calendar was titled 'A Year of UK Farming' and we asked agriculture students to enter photographs that represent the industry, with the best ones featuring in the calendar.
'Many of us had recently returned from our placement year when the storm hit, so we had a lot of good photographs so decided that a calendar was the best fund-raising idea.
'The support we have received from staff and students has been fantastic and it is great that we have been able to contribute to the relief efforts.'