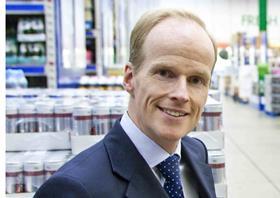 Charles Wilson, the chief executive of wholesale giant Booker, is set to retire in February 2021 having been diagnosed with throat cancer two years ago.
Tesco, which bought out the wholesaler in 2018, announced that Wilson has now decided it is time to step back from the business. "I remain in remission but it is time to take things a little easier," he said.

Booker is the UK's largest food wholesaler and owns the Premier, Budgens and Londis store brands.
Wilson will be succeeded by Andrew Yaxley who is currently Tesco's chief product officer, with a "comprehensive handover" set begin on 7 September 2020.
Ashwin Prasad will be promoted from his current role as Tesco's commercial director for packaged food to become chief product officer.
"I joined the Booker team 15 years ago," Wilson said. "At that time Booker was challenged. Together we turned around the company, improved customer satisfaction and grew to be the leading wholesaler.
"In 2018 we merged with Tesco. The merger is working well. Customer satisfaction has improved, our sales are up £1.5 billion and we are proud to be part of Tesco. It has been a privilege serving our retail and catering customers and a pleasure working with a great team at Tesco/Booker."
He added: "For those of you who ask such things, I will not be selling any Tesco shares in the next few years and will remain a committed supporter of the company."
When Tesco acquired Booker, Wilson briefly switched from being chief executive of thewholesaler and convenience grocery operator to chief executive of Tesco's UK and Ireland business.
He was then diagnosed with throat cancer following an operation to remove his tonsils in April and underwent extensive radiotherapy, responding well to the treatment.
Wilson subsequently stepped down from the Tesco board but remained on the executive committee, leading the Booker business.
Dave Lewis, Tesco's group chief executive, reacted to Wilson's retirement by saying:"Charles' reputation in the UK food business is unparalleled and for very good reason! The transformation of Booker over the last 15 years is one of the most remarkable business case studies in recent history.
"Since the merger with Tesco he has been a superb member of the executive team and a brilliant colleague. Whilst we are very sad to see him retire, we completely understand and wish Charles and his family all the very best for the future.
"I know that he will stay a massive supporter of the Tesco/Booker business and he will always remain a friend to many colleagues."