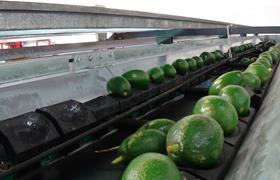 When one of the UK's largest produce companies starts using words like "aggressive" and "disruptive" to describe its newest business, it's usually time to sit up. When that business is dedicated to avocados, a product that has seen 226 per cent growth in the last 10 years according to Kantar figures, it suddenly becomes a whole lot more interesting.
The Avocado Company is the new wholly-owned subsidiary from Fresca Group, complete with new branding, infrastructure and a dedicated team. More importantly, it is the first time a UK produce company has linked itself explicitly by name and brand to one of the most lucrative food trends in recent years, something that has perhaps taken longer than expected.
Investment is already into the millions and includes a brand new Aweta grader with the latest infrared technology to grade for internal defects, 12 ripening chambers and 80 rapid cooling spaces at Fresca's Paddock Wood headquarters.
The new company is also part of Fresca's wider restructure towards more specialist divisions, including a rebranded Mack Fruit, handling bananas, citrus and grapes among others, and new service provision business FreshPlus. Avocados in particular demand full dedication, explains The Avocado Company's general manager Paul Frowde, whose CV includes helping set up Fresca's glasshouse mega-complex Thanet Earth. "It's a great opportunity but it's such a tough product, you have to be brilliant at it all the time. And this breakout will give us the opportunity to do this," he says.
Although he initially declines to discuss volume ambitions, it's clear Frowde has scale as well as quality in mind. "I want to grow the business as quickly and aggressively as we can," he says, speaking on an exclusive tour of The Avocado Company's facilities. "I'd like to think that we can at least double our business in the next 18 months with our current capacity."
Should his competitors be worried about his ambitions? "I want them to be worried. We want The Avocado Company to be disruptive in the market and we certainly want to be seen as the best," he says, musing that being disruptive used to be seen as a negative, whereas nowadays it's a sign of proactive ambition. "We've got the supply and we have quite aggressive investment plans to build more ripening rooms if needs be. This is a powerful group with the ability to invest in the right opportunity with the right people."
Fighting talk, but arguably there is more than enough of the proverbial pie to go around when it comes to the avocado market.
The market grew in value from £76 million in 2014 to £178m in 2017, thanks to increases in trip frequency and new customers. Growth has been more modest this year, with value sales rising 7.2 per cent in the 52 weeks to May 2018 compared to a record 37.2 per cent in May 2016, according to Kantar, but the market is still on the up as the UK lags behind other global per capita avocado consumption figures. The US is streets ahead with a whopping 5-6kg per person per year, while the UK sits at around 1.5kg, below Scandinavia and France, but above Spain.
"There's a massive opportunity to get it up to 2-2.5kg in the UK," says Frowde. "There aren't many products that you can snack on, eat for breakfast and have for the evening meal."
Regularly crowned as most Instagrammed food item, nowadays avocados come with a ready-made online following and instant engagement potential. In other words, they are a powerful brand-in-waiting. Will The Avocado Company be tapping into this? Frowde is coy. He says the company has little experience in consumer-facing brands, although The Avocado Company will soon join the Mack Premium brand in the company's wholesale and foodservice business.
He does reveal that he is looking into opportunities in frozen and oil formats and offers an interesting view of the high street that is much bigger than just food retail. "We want to target everything," he says. "You can stand at the top of a high street and you'll see avocado in everything. Aside from food, it's in oil, hair products, toiletries, everything. I don't want us to dismiss any opportunity."
Retail is by no means on the sidelines, however, and Frowde says he is "always looking" for new customers to add to the current portfolio of Marks & Spencer, its associated processors supplying sushi, sandwiches and salads, and Sainsbury's.
With such big capacity ambitions, The Avocado Company is also actively seeking out new export regions, explains buying manager Kenny Moran. Colombia is already a key supplier for the business thanks to Fresca stablemate and joint venture Cartama UK, while Moran is considering Ecuador and Brazil as two new potential suppliers. "I look at a map of the world and I look at where we're already sourcing, and where we've heard of opportunities or where we could enquire. I'm actively looking at that all the time," he says.
Sitting at the company's official launch event in Covent Garden's Avobar, a friend remarks she'd never heard of the themed pop-up. It's true that it's a far cry from Amsterdam's The Avocado Show, which boasts regular out-the-door queues and a merchandise store in the pipeline. Then there's the fact World Avocado Month, which took place in June, seemed to slip by in the UK without so much as a green balloon or extra scoop of smashed avocado at brunch.
It all adds up to the feeling that the UK has been somewhat late to the avocado party, but perhaps that's finally starting to change