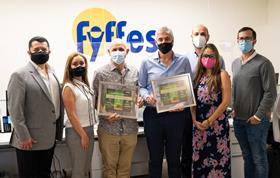 Fyffes hasbeen awarded a Certificate of Sustainability from logistics firm CHEP for its environmental savings through pallet pooling between 2020 and 2021.
Thepooling method, created by CHEP,sees pallets reused throughout the supply chain, which decreases the consumption of materials such as wood and reduces greenhouse gas emissions.
Thanks to the system's implementation, Fyffes and CHEP made the following savings in its banana, pineapple and melon operations between July 2020 and June 2021: 399,944 dm3 of wood, 3,422,543 kg of greenhouse gas emissions and 321,358 kg of waste.
To calculate these savings, CHEP carried out an environmental impact study assessing the use of its pallets compared to market alternatives. The logistics company uses specific software to perform a life cycle analysis of its products, which considers their environmental impact following the methodology of the ISO-14044 standard.
This certifies their quality and ensures they have the lowest environmental impact possible. In the last two years, CHEP has delivered more than 25 certificates in Latin America (Argentina, Brazil, Chile, and Mexico) based on the results of this life cycle analysis.
"Over the last decade, we have significantly reduced our carbon footprint through different initiatives that support Fyffes Global Sustainability Strategy. One of these is the use of CHEP pallets, reused and recycled to transport millions of boxes of our fruit around the world", said Luis Anchia, Fyffes' regional manager of materials and procurement.
'Obtaining the Certificate of Sustainability is a recognition that makes us proud and motivates us to continue working for a better future.'
At the beginning of the partnership between the two companies in Central America in 2016, Fyffes used CHEP pallets to transport melons from Honduras and Guatemala to North America and bananas from Costa Rica to Europe.
The success in the distribution and logistics of bananas from Costa Rica to Europe led Fyffes to expand the use of CHEP pallets further in Central America, the United States and Europe, and the company recently added Colombia and Guatemala to the list. Furthermore, since 2019, 100 per cent of the melons sent to North America are transported on CHEP pallets.
"As strategic allies of Fyffes, it is a great satisfaction for us to see the progress made in key countries and regions throughout Latin America," said Erick Pinot, Central America country manager and commercial director for Mexico at CHEP.
"We hope that this positive collaboration will continue to be successful for many years to come, along with the continued strengthening of our commitment to positively impact our planet."