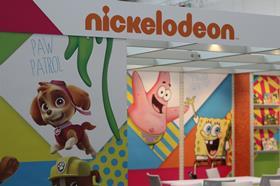 Chiquita UK has partnered with the world-famous Nickelodeon, the US television network that has given the world the likes of SpongeBob SquarePants, Rugrats and Kenan & Kel.
The banana brand - aiming to follow up on its 2015 consumer marketing successes, which helped double the company's sales figures - is using the partnership to expand its 'Just Smile!' campaign, and follows on from Chiquita'stie-in last year with Universal Pictures and the hit movie, The Minions.
The fully integrated campaign will feature an online microsite with games and recipes, and promotional TV spots.
A special smart phone feature will be the Just Smile! photo app, allowing the user to take comedic pictures with multiple filters and emojis including various fun Chiquita emoticons.
There is also to be a repeat of the London black cab campaign - with Chiquita branding on both the exterior and interior of cabs - which ran in October 2015, and will now double in size to 600 taxis in a six-week span.
Additionally in London during the summer, Chiquita will feature on the giant digital billboard in Piccadilly Circus, thus being seen by the millions of people who every week visit this iconic location in the capital city.
John Cockle, Chiquita's UK director, said: "Last year's consumer marketing was the first we had done in the UK and we were delighted with the results.
"Consumer awareness levels of the Chiquita brand were significantly boosted and this has helped produce a 100 per cent rise in sales of our bananas, hence the decision to expand our marketing activity this year.
"We are the only banana brand promoting direct to the general public in support of our wholesale and retail customers, and this policy is now embedded in a long term investment programme aimed at strengthening the Chiquita brand in the UK as part of the company's global strategy."