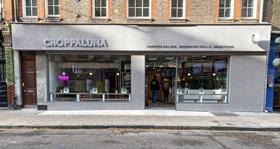 Berlin chopped salad chain Choppaluna has opened its first UK restaurant in Bloomsbury, London, a year after the store was first scheduled to launch.
The healthy fast-food chain previously operated in the German capital under the name Salaid, and last year its CEO and co-founderNikras Aghatold FPJ he wanted to expand his business to the UK because of the healthy eating "movement" he believes exists there.
Now, after delays caused by the Covid-19 pandemic, the franchise has opened its flagship UK store, which allows customers to eat in, take away or order online for delivery.
A chopped salad is finely diced in front of the customer with a curved two-handled 'mezzaluna' knife. Its ingredients can be customised by the diner, like at a salad bar.
A few years ago, the chopped salad became a lunchtime staple in America's Northeast, and Agha is confident the food-to-go trend will take off in the UK too.
Another business that already offers chopped salads in the UK is Freshly Chopped, which has outlets in Manchester and Leicester.
Choppaluna's menu features Chopped Bowls, with a choice over 60 salad ingredients; Big-Rolls, "where salad meets burrito"; Smoothies and Smoothie Bowls; and a breakfast menu featuring low-carb, high-energy options. Among these is the Breggfast Roll, which contains scrambled egg. There is also a wide range of vegetarian and vegan options.
After the Bloomsbury launch, Choppaluna said it plans to open its next site in the centre of Berlin by January 2021, adding that "further growth and franchise recruitment will come during the next 12 months".
Agha came up with the idea for Salaid, as it was formerly known, with his co-Founder Bijan Azadfard. The pair opened their first store in Berlin's Potsdamer Platz in 2016.

Commenting on the London launch, Agha said: "Choppaluna will truly revolutionise the healthy eating space in the UK, bringing customers indulgent healthy options that fit with a fast-paced on-the-go lifestyle.
"Following the launch of our first flagship store in Bloomsbury we will open a further site in Berlin by early next year and are currently looking at two other sites in London.
"The opportunity is truly resonating with our franchise network within the Hero Brands group and we will work with them to explore opportunities for growth throughout the UK."
Choppaluna is the latest creation from food brand development company Hero Brands, which is behind the successful German Doner Kebab franchise.
Hero Brands chief executive Athif Sarwar said: "Hero Brands is responding to emerging consumer trends and focused on growing the brands of the future.
"Eating-out is changing and younger consumers are demanding a shorter dwell time, great-tasting healthier food and an aspirational-experience that is shareable on their social channels.
"Choppaluna responds to this trend and we worked very closely with Nikras and the team to develop the brand and a proposition that truly disrupts the healthy eating space."