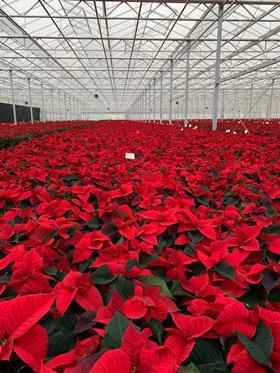 Three new varieties of festive poinsettia have been chosen by the ornamentals industry as having the most promise for the UK market in AHDB trials.
Christmas Universe and two as-yet unnamed varieties from plant breeders Selecta and Beekenkamp could be on supermarket shelves for future Christmases after being judged by growers as the best of 17 new poinsettias.
About eight million poinsettias are sold in Britain annually and although this year's winners are all traditional red in colour, white or pink varieties may be trialed in future if there is consumer demand, according to AHDB.
The plants were judged by growers on characteristics such as height, number of side shoots and the size of the bracts, the flower-like part of the plant, as part of AHDB-funded trials.
Wayne Brough, AHDB knowledge exchange manager, said: "The judging was tight this year with lots of strong performers. We will now assess the shelf life of the top 12 varieties to see which plants supermarkets and garden centres are likely to be stocking in the future. It's important for the industry to see how these plants perform under UK conditions."
Andrew Fuller, technical director at Neame Lea Nurseries, said: "Variety trials continue to be a useful way to help growers make important decisions about future poinsettia production.
"These AHDB-supported evaluations, staged in the UK, allow growers to meet and discuss the trials and tribulations that each season brings."
The poinsettias were judged at the AHDB and the British Protected Ornamental Association (BPOA) event on 21 November 2019.