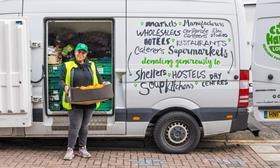 Fast-growing food redistribution charity City Harvest has launched its second annual Harvest for Hunger campaign as it aims to rescue enough food from primary production for two million meals in 2022 – double the amount achieved last year.
The charity, which was established in 2014, collects surplus and donated food from manufacturers, suppliers and retailers in London and across the UK for delivery (free of charge) to over 350 charities in the capital.
Currently, five million people face food poverty in the UK and with the cost of living rising dramatically, City Harvest is looking for ways to redistribute greater volumes of food.
The Harvest for Hunger campaign is now in its second year, and it has the aim of accessing food earlier in the supply chain, including directly from producers and suppliers, meaning growers don't have to plough their surplus produce back into the ground or send it for use in animal feed or anaerobic digestion.
When it comes to fruit and vegetables specifically, City Harvest retributes over 1,600 tonnes a year. This comes from all sectors, including retail and wholesale, but the charity would like to increase supply from the farming and primary production sectors.
The charity is also looking to encourage producers to start giving regular donations of top quality fruit and vegetables, as well as offering up surplus or out-of-spec produce as and when they have it. This will allow the charity to better plan its supply to charities and vulnerable people.
City Harvest, which has trebled in size since before the pandemic, has now expanded its network to collect produce from suppliers, manufacturers and retailers across the country thanks to funding from food waste charity WRAP.
It also has a new senior management team, having recently recruited a new head of fundraising, head of people, head of finance and head of community impact. There has been change at the top as well, with Laura Winningham replaced as CEO by former army officer and KPMG man David Carter.
Meanwhile, Fruitnet's managing director Chris White has joined the organisation's Food Council, advising on how the organisation can reach more fruit and vegetable suppliers.
One fresh produce company that already supplies City Harvest is G's Fresh, which joined forces with the organisation last year. Its chief executive Guy Shropshire said: "G's is committed, not only to reducing our overall food waste, but proactively ensuring a larger proportion of our surplus ends up in 'value add' destinations. City Harvest tackles surplus food and food poverty in a positive and sustainable way."
City Harvest's head of food, Dan McAlpine, added that City Harvest "prides itself" on understanding the challenges producers and packers face with surpluses. "The growers we speak to are so passionate about their food not being wasted," he said.
In terms of fruit and vegetable producers, packers and importers, City Harvest currently works with: Newlings (Avalon), James Foskett, Wild Country Organics, RF Clarke Potatoes, Ethical Food company, Abbey View Produce, Mole End Farm, Bardsley England, GA Stevenson, G's Fresh, Barfoots, Adrian Scripps and G Global/Halo.
The organisation's recipient charities include: homeless shelters, hostels, soup kitchens, mental health charities, projects for the elderly and socially isolated, community kitchens, schools, family centres, children's programmes, and domestic abuse refuges.
Across the operation as a whole, including all food categories,City Harvest now distributesfree food for more than one million meals a month.Fruit and veg is its biggest single category, accounting for around 30 per cent of supply.