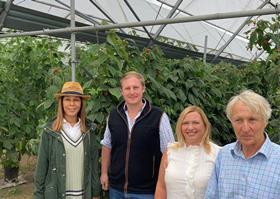 Kent-based leading berry, top and stonefruit growerClock House Farm this month hosted a farming roundtable, at the company's Coxheath headquarters, attended by Helen Grant, MP for Maidstone and The Weald and Ben Gibbons, NFU Kent's, South East Regional Advisor.
The initiative provided an opportunity to discuss key issues affecting farmers working in the soft fruit industry and included discussions on the much-debated challenges posed by the severe labour shortage across the supply chain and the associated limitations of the current Seasonal Agriculture Workers Scheme, rural crime and the opportunities represented by post-Brexit trade deals.
Commenting on the meeting, Clock House Farm managing director Oli Pascall said, "We were delighted to be part of this event and welcomed the opportunity to talk in detail about the critical issues affecting farmers in the South East. In particular, we wanted to put forward the NFU's – and other organisations involved in the production, processing, and supply of food – recommendations for the introduction of a 12-month Covid-19 Recovery Visa, which would enable those businesses involved in the food supply chain to recruit for critical roles now, whilst continuing to support training and skills development to encourage domestic recruitment.
'Looking ahead to 2022, Clock House Farm wholeheartedly supports the request to urge the government to commit to a permanent Seasonal Workers Scheme for those operating in the UK horticulture sector and endorses the NFU's appeal for the Migration Advisory Committee to undertake a detailed review of the sector – as has previously been witnessed in the social care sector – to identify areas of shortage where short term immigration solutions can be implemented to enable businesses to continue to operate successfully.
'We are confident that Helen Grant, as our local MP, will play a pivotal role in effectively representing the views of the sector and hopefully, instigating the much-needed change critical to the survival of businesses who are so intrinsically linked with supplying essential food for the nation."