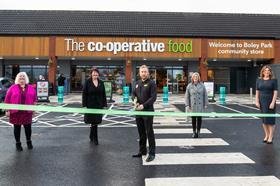 Central England Co-op has today (6 July) signed the European Union's new Code of Conduct on Responsible Business and Marketing Practices in an effort to work closely with partners to help improve food sustainability.
The Society, which has over 400 food stores and funeral homes across 16 counties, outlined a series of targets as part of the announcement as part of ongoing efforts to showcase its commitment. These included a 90 per cent carbon footprint reduction by 2030 and a 50 per cent food waste reduction by 2025.
This comes on the back of Central England Co-op being named Leading Co-op of the Year by Co-operatives UK in part for its long-term environmental credentials.
Luke Olly, Energy and Environment Lead, said: "We are delighted to have signed up to the aspirational objectives of the EU Code of Conduct on Responsible Business and Marketing Practices and are pleased to showcase our commitment by putting forward our own ambitious and tangible commitments.
"As a co-operative, we have a responsibility to champion sustainability for the good of our members, consumers and local communities. This drives our business strategy and commitments which we shape to deliver our vision of a responsible business.
"We believe that the transformation of our food system is an ambition requiring the participation of all stakeholders throughout the value chain and their close co-operation, which is why we shall engage in close coordination with our EU-level association Euro Coop for the effective promotion of high sustainability practices.
"We look forward to working closely with our EU partners to deliver this ambitious path to sustainable food systems."
Debbie Robinson, Central England Co-op Chief Executive, is a Vice-President of the Euro Co-op. Euro Co-op Secretary-General Todor Ivanov announced that Euro Co-op and its many members have signed the EU Code of Conduct under the Farm to Fork Strategy.
He said: "Euro Co-op and our members fully endorse the Code's aspirational objectives and today we step up to show leadership. Consumer co-operatives are sustainability frontrunners by way of innovation, investment and partnerships. We have continued to excel despite the raging pandemic.
"Our commitment to the co-op principles and values propels us to champion a better way of doing business for our consumer-members and the local communities. Being member-owned means care for the community is at the heart of our strategy, which guarantees a holistic approach to sustainability by which environmental and social priorities are embedded into our operations.
"The wide breadth of innovation and experience from pioneering the green transition are the basis of the ambitious and tangible commitments Euro Coop members will put forward as pledges, effective immediately, ranging from empowering consumers, fighting food waste, setting science-based climate targets, or supporting local producers.
"We are believers of co-operation and we stand ready to engage all stakeholders along the value chain in embracing higher sustainability performance. Policymakers' role is crucial for providing an enabling environment so businesses could flourish and maximise their potential in attaining the EU Green Deal and Farm to Fork Strategy objectives. All food operators should be supported in making their contribution in line with their scale and business model or strategy. This is the beginning of a long journey and we are certain of our collective success."
Central England Co-op says its eco commitment is already evident in some of the major milestones it has achieved in recent years.
These include:
Reducing electricity usage by 51 per cent since 2010
Reducing natural gas usage by 58 per cent since 2010
Reducing refrigeration gas emissions by 69 per cent since 2010
New stores use as little as 50 per cent less electricity
Reducing food waste by 40 per cent during the past three years from 2,445 tonnes in 2017 to 1,085 tonnes in 2020

Central England Co-operative is one of the largest independent retail co-operative societies in the UK with interests in food, funeral, floral and property investment.

Owned by hundreds of thousands of members, its over 7,800 colleagues serve customers across 400 plus trading sites in 16 counties in the East and West Midlands, Yorkshire, Suffolk, Norfolk, Bedfordshire and Cambridgeshire.

Its stated purpose is to inspire communities to create a sustainable society for all.