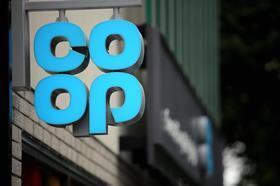 The Co-op has announced plans to accelerate its ecommerce strategy and drive rapid growth in the market for community-based home deliveries through a new partnership with Amazon and an acceleration of robot deliveries.
The moves are part of a major plan by the convenience store specialist to nearly triple online sales from £70m to £200m by the end of the year.
The Co-op said the new strategic partnership and robot rollout are key drivers in its plans to speed up "rapid kerb-to-kitchen grocery delivery services."
The partnership with Amazon gives Prime customers the ability to do their full Co-op grocery shop on Amazon.co.uk, with same-day delivery and two-hour scheduled time slots available. Initially launching in Glasgow - including surrounding areas such as Hamilton and Paisley - the initiative will be rolled out to other parts of the UK before the end of the year, with an ambition that it will become a nationwide service.
Robot expansion
The Co-op also confirmed the extension of its partnership with Starship Technologies, the delivery robot company launched by the co-founders of Skype, which allows the delivery of groceries in as little as 20 minutes, with a dramatic reduction in carbon emissions.
In a further move, the retailer will increase the number of autonomous vehicles operating and delivering its groceries from 200 to 500 by the end of this year, bringing them to five new towns and cities, including in Cambridgeshire, and extending the service into the north of England. Shoppers using the service will be able to chose from 3,000 grocery items.
Steve Murrells, group chief executive, said: "The pandemic has accelerated changes in consumer shopping trends and we're driving forward with exciting plans to provide rapid kerb-to-kitchen grocery delivery services.
"We are delighted to be working with Amazon. Its reach and leading technology and innovative approach means greater convenience for people in their communities. This, combined with our extended partnership with Starship Technologies, marks a significant milestone in our online strategy."
Co-op on Amazon will be available on Amazon.co.uk and on the Amazon.co.uk app.
Solid sales
The announcement was made as the Co-op released its half-year results, with total group revenue up 4.2 per cent against pre-pandemic levels in the 26 weeks to 3 July, though down 3.2 per cent against the unprecedented 2020.
An underlying pre-tax operating loss of £15m was put down to planned investment in colleagues and the business, as well as profit erosion related to product availability issues and the ongoing effects of Covid.