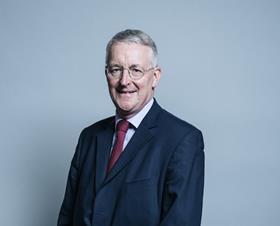 A no-deal Brexit would be 'disastrous' for UK farming, with the food and drink manufacturing sector among the most severely hit, according to a new report by the parliamentary Committee on Exiting the EU.
The report, which will crank up the pressure on probable new Prime Minister Boris Johnson - who has repeatedly refused to rule out a no-deal outcome - underlines that the government's own economic assessment showed that a no-deal exit from the EU would be the most economically damaging outcome for the EU. It added that it would represent 'a sudden rupture for the closely entwined economies of the UK and the EU 27'.
The report states that for the farming sector, the government's provisional no-deal tariff schedules would allow many agricultural products to enter the UK tariff-free, while UK producers would face high tariffs exporting to the EU - currently the market for two-thirds of the UK's agri exports.
The requirement for customs, sanitary and phytosanitary checks at the border are expected to create delays in agri-food supply chains, the report continued, with 40 per cent of product currently passing through the short straits crossings to Dover and Folkstone. Delays are likely to bring 'selective and unpredictable shortages in certain foodstuffs', as well as price increases.
There are also safety concerns, with the UK cut off from the European Food Safety Authority and Rapid Alert System for Food and Feed.
Committee chair Hilary Benn - a former Defra secretary of state - said that a no-deal Brexit, without a GATT XXIV agreement, would be 'at best a foolhardy gamble and at worst, lead to severe disruption', adding: 'It is neither desirable nor sustainable as an end state for our economic relations with the EU.'
Benn, who agreed with the NFU's warning that a no-deal Brexit would be 'disastrous' for UK farming, concluded: 'This clear evidence reinforces our previous conclusion that a 'managed no deal' cannot constitute the policy of any responsible government.'
Tim Rycroft, chief operating officer at the Food and Drink Federation, welcomed the report's findings, stating:"The run up to 31 October 2019 is particularly stark. Food and drink manufacturers will not be able to secure additional frozen and chilled warehousing space or logistics capacity for stockpiling, as the required space is already booked for the peak Christmas production period.
'Manufacturers will therefore have no spare production capacity or ability to store ingredients and finished products. UK food imports will climb from autumn onwards as fresh food stocks decline, so any 'no-deal' disruption will have a major impact on availability."