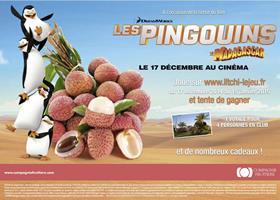 French exotics supplier Compagnie Fruitiere has secured the rights to the latest Dreamworks' animated film Penguins of Madagascar to promote production of Madagascan lychees.
The company said the deal with media company Fox is part of its new strategy to "drive more volumes using alternative promotional mechanics".
A series of posters and adverts promoting the film and displaying the Compagnie Fruitiere logo is set to launch in France, and the company's UK arm – Compagnie Fruitiere UK (CFUK) – said it is able to run a similar campaign in the UK.
The tie-up will also offer consumers the chance to win prizes for travel, printers, laptops and tickets to see the film, set for UK release in December.
CFUK said that anyone interested in lychees supply or marketing in the UK should contact the company to discuss using the Penguins in Madgascar promotional opportunity.
Rungis-headquarted Compagnie Fruitiere's primary business is bananas and pineapples, but it supplies a large range of tropical and exotic fruit through its specialist subsidiary Exofarm.