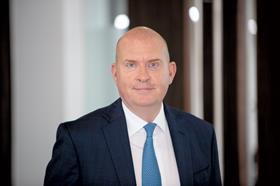 The world's biggest catering and foodservice business, Compass Group, has warned that it could lose a significant chunk of its revenue and profits as global lockdown measures to combat the Covid-19 coronavirus come into effect.
The firm told investors that the operating profit projection for the first half of 2020 has been slashed by £125-£225 million, as businesses across the world shut their doors, which is having a 'severe impact' on Compass Group.
In the UK, Prime Minister Boris Johnson called on the British public to avoid gathering in places such as entertainment venues, prompting theatres to close last night.
Almost all sporting events have been cancelled too until April, while much of Europe has gone into enforced lockdown, with people having to remain indoors except for necessary trips outside.
Despite avoiding negative effects from coronavirus at the start of the year, the Compass Group said the acceleration of social distancing measures will inevitably hit the business hard.
"Compass' organic revenue growth for the five months ending 29 February 2020 was 6 per cent as measures to contain the virus in our Asia Pacific region did not materially impact our business. Our operating margin during that five month period increased by around 10bpswith the benefits from the restructuring programme in Europe coming through strongly," the company stated.
"However, the acceleration of containment measures adopted by governments and clients in Continental Europe and North America have affected our expectations for the Half Year.
"The vast majority of our Sports & Leisure and Education business in these regions has been closed, and our Business & Industry volumes are being severely impacted.
"Our current expectations are that Half Year 2020 organic revenue growth should be between 0-2 per cent. We are implementing significant mitigation plans to manage our costs, and at this stage expect the drop-through impact of the lost revenue to be between 25-30 per cent across the business.
"As a result, our operating profit for Half Year 2020 will be £125 million - £225 million lower than expected."
Compass Group is headquartered in Chertsey, England, but operates across the globe, and with a revenue of £25 billion, is a member of the FTSE 100.
The company added: "We continue to monitor the situation closely and will provide a further update with our 2020 Half Year results announcement on 13 May 2020."