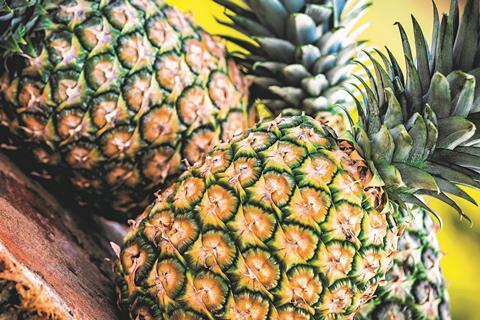 Costa Rican pineapple suppliers could face major oversupply if the anticipated major demand from China is less than expected.
The Chinese market opened for Costa Rican pineapples earlier this year and there are already significant volumes being sent to Asia, said Jai Thakrar, president of exporter Jalaram Fruit, with new plantings in the ground to prepare for further growth.
"Pineapple is a middle class product, it's not a commodity. When the economy starts moving, people start buying pineapples and spending more on luxury items," he said.
China's burgeoning middle class and rapid population growth is one of the reasons it is an attractive market for many exporters.
"If China doesn't consume as much as we expect we're going to have a huge oversupply," said Thakrar.
Jalaram Fruit specialises in crownless pineapples and sees particular growth potential in the Central and Eastern European markets, as well as Asia, he said. Crownless pineapples are typically sent to processors and destined for the fresh cut market.
Pineapple for the fresh cut market has stricter aesthetic requirements, said Thakrar, as every blemish can be seen once it is sliced. Varietal development is focused on sweetness, something that is also favoured by the Chinese market.
Based in Costa Rica, the US and with an office at New Spitalfields Market in the UK, Jalaram Fruit was exhibiting at the Amsterdam Produce Show last week where it was "representing Costa Rica as a brand" as well as meeting new and existing business contacts.