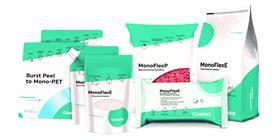 Leading European packaging manufacturer Coveris says it is on "no waste mission" and is focused on developing sustainable packaging alternatives.
To that end, Coveris will showcase its complete range of flexible packaging materials that meet its sustainatility criteria, from films and pre-made bags to labels and boards, at the Fachpack 2021 trade convention in Nuremberg, Germany, on 28-30 September.
At the show, Coveris will also promote its recently opened Film Science Lab in Winsford, UK, which supports the accelerated R&D of innovative and sustainable film solutions through state-of-the-art technology and market-leading expertise.
"At Coveris we take sustainability very seriously and address the topic on different levels. Group-wide we have recently introduced a 'No Waste' strategy which focuses our sustainability efforts on the idea of no waste of the products we pack, no waste of our packaging solutions and no waste in our operations, enforcing recycling and second life approaches," explained Jakob A Mosser, CEO of Coveris Group.
Coveris addd that it strives to develop new packaging designs using fully recyclable materials, like the extended range of recyclable PE and PP MonoFlex films and laminates.
Launched initially at the previous Fachpack 2019, this packaging concept gained such popularity over the years that now it is available across all food and pet food applications (latest addition: bakery) in a wide range of shapes and sizes. The material's success lies in combining the best features of standard Coveris films, including enhanced convenience for opening and reclosing, with an attractive, premium look at point-of-sale, the firm said.
Another sustainable packaging highlight is Coveris' next-generation Duralite-R film made from up to 100 per cent recycled PE. This award-winning, fully recyclable film supports a circular economy for plastic packaging and significantly reduces carbon footprint.
For PET bottles and containers, Coveris' wash-off labels are designed to facilitate recycling in a closed-loop system. Compatible with deposit return schemes (DRS), they enable maximum clean PET recovery for use in rPET as part of a circular process.
Visitors at Fachpack 2021 will also experience first-hand the paper and board alternative packaging solutions that offer food brands the natural look & feel at the point of sale. Creating a new, all-paper packaging solution for produce, linerless label punnets offer an opportunity for plastic replacement and are FSC sustainably sourced and recyclable, using the latest linerless technology for fast, automated, and efficient packing speeds.
As part of its innovation strategy, Coveris has a wide network of R&D centres. Until last year the two main R&D facilities were supported by the UK – its Pack Positive Centre in Leeds, specialising in upstream creative development, consumer insights, and pack design as well as Gainsborough's award-wining Food Science Lab in Lincolnshire, focusing on minimising waste and maximising product lifecycle.
Last year the Pack Innovation Centre in Halle, Germany, added to the group a European hub for technical product development, sustainable innovation, and education on flexible packaging. The centre offers a unique customer experience, combining industrial trials with cross-functional training sessions, on-site testing, and immediate validation.
This year Coveris opened its innovative Film Science Lab at Winsford facility, which already positions the company as a center of excellence for industrial, agricultural, and recycled stretch products. State-of-the-art materials lab and expert team support the scientific development and testing of recyclable, lightweight PE and co-ex films to maintain functionality and performance for customers' products. The latest example is the Cereal+ liner made from fully recyclable PE, which offers enhanced product protection, prolonged freshness, and shelf life for dry foods packed in bag-in-box films.
"Thanks to such a strong network of R&D centres, Coveris can add real value through all steps of packaging development, from raw material selection to a circular economy logic and strive to design the packaging of the future. Our business segments focused on Films, Flexibles and Fibrebased products are providing the perfect platform for this", added Mosser.
Coveris is a leading European packaging company that manufactures flexible packaging solutions for some of the world's most respected brands. We develop packaging that protects all types of products - from food to pet food, from medical devices to industrial and agricultural products.
Organised in Business Units that are focusing on Films, Flexibles, and Fibrebased products (Labels & Board), Coveris says it is providing the perfect platform to develop sustainable packaging solutions for a greener future.
Coveris operates 29 sites in the EMEA region with 4,200 employees. Coveris Group is headquartered in Vienna, Austria.