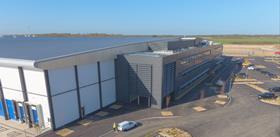 An outbreak of coronavirus has been reported at fresh fruit and flowers suppliers AM Fresh UK and MM Flowers.
The businesses are sister companies, supplying citrus, grapes and flowers to UK supermarkets from a shared site in Alconbury, Cambridgeshire.
Between them they have seen 26 staff test positive for Covid-19 in the past three weeks.In the last four months, a total of 35 people at the site have tested positive for the virus.
The last positive test at AM Fresh UK was on 10July, and at MM Flowers on 18 July.
The Alconbury site employs around 550 permanent colleagues and 300 agency workers through a single employment agency. The suppliers said they were working in conjunction with Public Health England and local authorities to trace the source of the recent infections.
As a further precaution, and in consultation with PHE, everyone working at the Alconbury site will soon be tested for Covid-19.
A spokesperson for the two companies said: "Like many organisations, AM Fresh UK and MM Flowers have taken extensive steps to ensure the safety of their people and their continued operation providing fresh produce and cut flowers.
"Both businesses have adapted their processes in accordance with all government guidelines to create a Covid-19 secure site.
"Measures include social distancing, extensive hygiene practices (deep cleaning of high-touch and high-traffic areas, including packing facilities of both businesses), one-way systems within welfare areas, staggered shifts, Perspex screens and face coverings."
They added: "Both companies continue to monitor the situation closely and will take any further necessary steps, in consultation with Public Health England, to protect both their teams and their continued operations.'