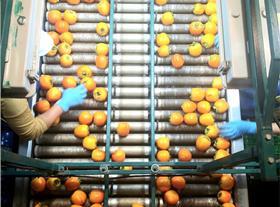 A bumper crop has put expansion plans back on track for Spain's kaki industry following two successive seasons of supply shortages. With the 2019-20 harvest expected to tip the scales at 400,000 tonnes, Anecoop – whose members include 27 cooperatives that between them produce around half of Spain's kaki output – is pulling out all the stops in a bid to consolidate the fruit's position in Europe and open new export markets.
Kakis have been a lifeline for many farmers in Valencia, providing a lucrative alternative to citrus after years of dwindling returns. The fruit thrives in the fertile soils and mild climate of the Xúquer and Magro rivers, home of the Protected Designation of Origin Kaki Ribera del Xúquer, which markets its kakis in the UK under the trademarked Spanish Persimon brand.
Ask any grower here to explain the fruit's appeal and they will tell you that the native Rojo Brillante variety, characterised by its elongated shape, golden-orange skin and sweet, delicate flavour, puts their kakis in a class of their own. Unlike other persimmon varieties, Rojo Brillante does not have seeds and retains its firmness for a considerable length of time, even when ripe, thanks to a process of removing the fruit's natural astringency by keeping it in a storage chamber without oxygen for a period of 24-48 hours.
The creation of the regulatory council of the Kaki Ribera del Xúquer PDO in 1996 sealed Valencia's reputation as a source of premium persimmon with guaranteed traceability and quality criteria and today, kakis are found in produce aisles across Europe – particularly in Germany, France, Italy and the UK – where they regularly outsell other tropicals such as mangoes and pineapples during their relatively short season, which runs from October through to January.
For more than 50 years the variety was grown exclusively in the Valencia region but more recently, acreage has spread to other parts of Spain, including Murcia and Huelva. And other countries are now looking to cash in on its popularity – growers in Italy's Emilia-Romagna, Veneto and Calabria regions, for example, are set to harvest around 300t this season, while new plantings are also reportedly springing up in Azerbaijan.
With consumption rising steadily, both in Europe and further afield in Asia and the Middle East, the head of the Kaki Ribera del Xúquer regulatory council, Rafael Perucho, believes that kakis continue to have huge export potential and that there is still a long way to go before they hit their commercial ceiling.
After being forced to put its promotional campaign on hold last year when hailstorms and heavy frosts caused major losses to the harvest, the PDO's marketing machine is once again firing on all cylinders, with a full range of activities scheduled to take place throughout the current season. In the UK these include in-store and print advertising, social media and activities with journalists and food writers. The campaign has also launched an updated website featuring a selection of new seasonal recipes.
"Campaigns such as this are extremely important," says Perucho. "Consumption of Persimon is rising every year, along with consumer awareness – there can be no doubt that our promotional activities are facilitating that trend."
While there is undoubtedly scope to increase demand in the UK and across Europe, this year's bumper crop will be a true test of just how much fruit the market can handle. Output is forecast to rise by 50 per cent to 600,000 tonnes within the next two years, so it essential that the sector acts now to grow the European market.
But this may not be enough. Even the most optimistic forecasts suggest that Spain will have to cast its export net wider if the volumes coming through in the next few years are to be absorbed without seriously denting the sector's profitability. Having survived the fallout from the closure of the Russian market five years ago, growers are mindful of the need for greater diversification and are already exploring new markets such as Brazil, Canada, Hong Kong and Singapore.
The Spanish Kaki Association, whose 48 associated members account for roughly the other half of Spain's kaki output, estimates that around seven to eight per cent of exports are now shipped to destinations in Asia and the Middle East. The association says it is currently working on new protocol proposals for exports to Saudi Arabia and Algeria, and in future is looking to open access to Vietnam, Thailand and South Korea.
In the longer term, China is seen as a market with huge potential thanks to its high demand for kaki and the belief that Rojo Brillante could be marketed as a standout premium variety. The industry is lobbying the Spanish government to prioritise kakis in its trade negotiations with China, but it is widely accepted that meeting the high quality demands of this market will be a major challenge for exporters if tough phytosanitary conditions are imposed under a new protocol.
Closer to home it is clear that marketing efforts will have to be stepped up in order to ensure that the fruit has a profitable future. Successive Spanish Persimon campaigns in the UK, which most recently have focused on the fruit's versatility and health benefits, have helped make kakis one of the fastest-growing exotic fruits of the past decade, and show the benefits of producers pulling together under a single brand.
This season marks a decisive moment for the Spanish kaki industry. Although the fruit has been relatively profitable up to now, there is a big question mark over how well prices will hold up as volumes continue to rise – and rise they will: the rate of new plantings may have slowed down but younger orchards are becoming more productive as they mature.
Asked whether more should be done to regulate new plantings, Perucho is circumspect. "We won't know until the season is over – only then will we be able to make an accurate assessment of how it has gone and what our future strategy should be," he says. "In the meantime, we're doing everything we can to raise consumer awareness of this excellent product and increase consumption levels in our key markets."
New varieties on trial
Just to the north of the city of Valencia, nestling a few hundred metres inland from the Mediterranean coast, lies the municipality of Museros, home to Anecoop's 20-hectare experimental field station, Masía del Doctor (Doctor's Farmhouse). The farm was set up in 1997 and is the most important private trial centre of its kind in Europe and the only one to combine experimental knowledge with real application on farms.
More than 500 varieties of fruit and vegetables can be found there, including citrus, table grapes, pomegranates, kiwifruit, stonefruit, avocados and kaki. "We analyse the properties of different cultivars and varieties to see how we can improve them and develop new products that cater for current consumer tastes and demands," explains Mari Carmen Rubio, the farm's technical director (pictured below).
Among the newer cultivars being trialled, she lists Clemenson clementines, Tarocco and Sanguinelli blood oranges, Mirlo apricots, kiwiberries and Dori golden kiwifruit. "Of all the yellow kiwifruit varieties, Dori is the one that we've found is best suited to the growing conditions around Valencia," Rubio says. "We're also planning to start trials of red kiwifruit in the near future."
When it comes to kakis, Rubio notes that in spite of extensive efforts, no match has been found so far for the Rojo Brillante variety. "Nothing comes close quality-wise. But we have managed to extend the Rojo Brillante season, mainly by applying better post-harvest and storage techniques."