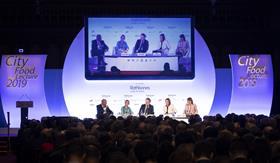 The City Food Lecture will return as an in-person and online event on Thursday 17 February 2022.
The 21st anniversary of the event will once again bring together the seven food and agricultural liveries, as well as leading executives from across the spectrum of the food and drink industry. Its keynote speaker, who will be announced shortly, will focus on a major topic of interest to the sector, and will be followed by a panel debate and audience Q&A.
After taking place online in 2021, the event returns to London's Guildhall, however guests who are unable to physically attend will be able to join remotely via a virtual hub.
City Food Lecture chairman John Giles said: "2022 marks a huge moment in the history of the City Food Lecture as we will be celebrating our 21st lecture. Back in 2001 we started out by looking at 'The UK food chain – making life better', led by keynote speaker Peter Blackburn CBE, the former chairman and chief executive of Nestle.
'Over the years each lecture has focused on an equally hot topic from our keynote speaker and panel, and we've enjoyed the company of the 'who's who' of the industry.
"2022 will be no different. We have always set out our stall to be at the forefront of the burning issues we face across the food and agricultural sectors within our livery companies, and we look forward to once again gathering over 600 industry attendees, our liverymen and women as well as the future industry leaders from our student attendees next February."