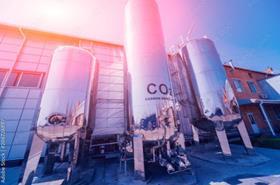 UK government ministers have reached a deal to restart carbon dioxide (CO2) production at a factory on Teesside in an effort to ease fears of food shortages, according to press reports.
The business secretary, Kwasi Kwarteng, had been locked in talks with the US firm CF Industries after it stopped work at its fertiliser plants because of the surge in gas prices.
It emerged on Tuesday night (21 September) that the government would provide "limited financial support" for CF Fertilisers' operating costs for three weeks while the CO2 market adapts to global gas prices.
The Department for Business, Energy and Industrial Strategy said the "exceptional short-term arrangement" with the US-owned firm would allow the company to immediately restart operations and produce CO2 at its Billingham plant in Teesside. The firm has another site in Cheshire, which is currently still closed.
Earlier, Kwarteng suggested that the government could be willing to provide the industry with support to restart after warnings that a shortage of the gas could cause food supply problems.
"Time is of the essence, and that's why I spoke to the chief executive, speaking to him twice in the last two days, and we're hopeful that we can get something sorted today and get the production up and running in the next few days," he told the BBC.
The closure of the fertiliser factories has led to a food production crisis, as food-grade CO2 is a by-product of production and is used to stun animals for slaughter, as well as packing meat, dairy and salads.
Retailers and suppliers had given warning on Monday that supermarkets would begin to run short of certain fresh foods by the end of next week if the government did not take action.
Ian Wright, chief executive of the Food and Drink Federation, told BBC Radio 4's Today programme that the potential shortages of CO2 were "a real crisis" and said: "The just-in-time system which underpins both supermarkets and the hospitality industry is under the most strain it has ever been in the 40 years it has been there."
After news of a potential deal to restart CO2 production emerged, affected businesses said there were still likely to be short-term problems with supplies.
"We don't yet have the detail, but if production can restart at appropriate scale before the end of the week, this should be enough to ensure pig and poultry production can continue at close to normal," Wright said.
Andrew Opie, director of food at the British Retail Consortium, which represents all the major supermarkets, said: "We welcome the announcement of a deal to get CO2 production back to normal levels. By taking decisive action on this important issue, the government will help prevent availability issues arising from CO2 shortages."