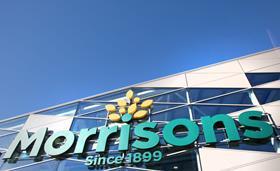 Deliveroo is embarking on "rapid" grocery deliveries, opening its own dark store in London in partnership with supermarket chain Wm Morrison, reports the Financial Times.
The new service, Deliveroo Hop, will be available to residents in and around Vauxhall and Battersea in south London within 10 to 15 minutes.
It will compete with the new breed of grocery delivery start-ups including Getir, Gorillas and Zapp, which have proliferated across the UK this year after raising hundreds of millions of dollars in venture capital, the FT said.
"Deliveroo Hop will enhance our on-demand grocery offering for both consumers and our grocery partners," Will Shu, Deliveroo chief executive, told the paper.
Deliveroo already delivers from 4,600 supermarkets and convenience stores across the UK, including Waitrose, J Sainsbury and Aldi, in addition to hundreds more in France, Italy and Hong Kong, according to the report.
"There is an ambition to grow this model quickly," said James Badger, Morrisons' online and wholesale director. "Society is moving in many ways to instant gratification . . . We want to make our Morrisons product available to as many customers as possible."
Morrisons also works with Amazon on its Fresh grocery service, as well as offering its own online service, which delivers from its own supermarkets and Ocado's facility in Erith, south-east London.
Florence Wright, senior analyst at Edge by Ascential says this latest partnership between Deliveroo and Morrisons shows how rapid delivery isbecoming 'table stakes for grocery businesses in major markets' even though this sector didn't really exist at the start of the year.
'Nine months later, this is a multibillion dollar industry that has already been the focus of takeover activity and strategic investments - London-based Dija was acquired by US firm GoPuff in the summer, while Carrefour has recently taken a minority stake in Cajoo,' she says.
'An important measure of sustainable success in this sector is scale, and Deliveroo has that - compared to its smaller rivals. Deliveroo is already a heavyweight in the on-demand delivery market, and its proposition is further strengthened by its long-term partnership with Morrisons.
'It's also important to note that Amazon own an 11.5 per cent share in Deliveroo and are building a relationship with them giving prime members free Deliveroo Plus,' Wright continues. 'It's, therefore, no surprise that it's partneredwith Morrisons with its first foray into rapid delivery as it has a standing partnership with the supermarket where it sells Morrisons products on its site.The use of dark stores will also enable them to compete with even quicker timeframes. It is therefore set to make waves."