Tesco and Diabetes UK are urging younger men to get tested and eat more fresh produce
Tesco and Diabetes UK have teamed up for a new awareness campaign following research showing how few fruit and vegetables younger men eat.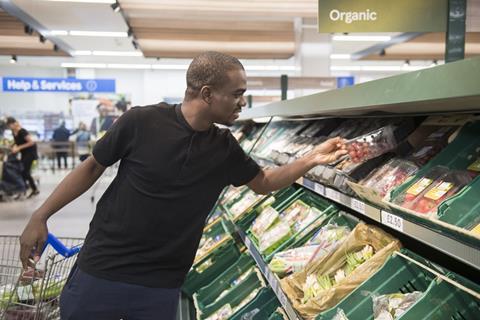 As part of the campaign, men aged 40 and under are being urged to take a free and simple check to understand their risk of type 2 diabetes, rather than wait for worrying symptoms to appear.
New research commissioned by Diabetes UK and Tesco for Diabetes Prevention Week (22-28 May) has revealed that men under 40 are most likely to be spurred into action to improve their health by a health scare, or if a health professional such as a GP said they needed to.
But they are being warned that as the signs of having type 2 diabetes may not be obvious, and with increasing numbers of people aged under 40 developing the life-changing condition, it's vital for even younger individuals to know their risk.
A free, simple and potentially life-saving assessment to better understand individual risk of type 2 diabetes can be carried out at any of the more than 370 Tesco Pharmacies across the UK, or online via Tesco Pharmacy. Anyone who completes an assessment will be directed to free advice and information on the help and support available to manage their risk.
Lack of fruit and veg in diets
Eating more portions of fruit and veg and moving more are two of the ways to reduce your risk of developing type 2 diabetes, yet the survey of 2,000 men found that 82 per cent were eating on average less than five portions of fruit and veg a day and 86 per cent were getting under 150 minutes of exercise a week, falling short of recommended healthy levels.
Men responding to the survey said that breakfast was their mealtime in most need of a healthy makeover. As part of its commitment to help customers make healthier food choices, Tesco has also produced a series of healthy and budget-friendly recipes for Prevention Week, approved by Diabetes UK, which are available through the Tesco Real Food website.
Chris Askew, chief executive at Diabetes UK, said: "While developing type 2 diabetes isn't looming large on the minds of most young men, we're seeing increased numbers of men in this age group developing this serious and life-altering condition. Managing your weight, eating healthily and doing more physical activity can all contribute to reducing your risk of getting type 2 diabetes, and starting those habits at a younger age can set you up on a healthy path for later life, when we really see people's risk increase."
"Understanding the risk factors of type 2 diabetes, and your own personal risk based on your family history, ethnicity and general health is so important. Getting a diagnosis of type 2 diabetes is life-changing. Younger men have the chance now to make changes that could reduce their risk of developing the condition, and know how to help keep it at bay."