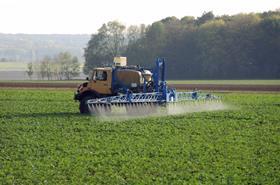 The average yearly grocery bill for British families could soar by £786 if pesticides are removed from farms, according to a new report.
The figures from a Crop Protection Association report, written by agricultural economist Séan Rickard, suggest the cost of fresh fruit would rise by more than £4 a week, an extra £226 per year, for a two-parent, two-child family.
Rickard suggests that families with two children will have to pay almost £140 more each year for cereal-based products, such as bread and breakfast cereals.
The report based its findings on previous claim which suggest the removal of pesticides, or Plant Protection Products (PPPs) would lead to drastic falls in production.
One study, published by environmental research group, ADAS, "concluded that even though some PPPs would still be available to farmers, the production of wheat, potatoes and brassicas would fall by 62, 53 and 77 per cent respectively".
With lower crop production, the report estimates that farmgate prices by the tonne will shoot up, with carrots rising by 120 per cent, strawberries up 110 per cent, and cabbage by 120 per cent.
This translated into an extra 79p per week for shoppers buying green vegetables, and another £1.40 per week spent on fresh fruit.
Author of the report, Séan Rickard, said: "The removal of plant protection products would present a severe challenge to already hard-pressed households, exacerbate income inequalities and make healthy eating more expensive. Some of the largest increases in prices would be for vegetables and fruit."
Sarah Mukherjee, Crop Protection Association, CEO added: "The report shows that plant protection products are essential in maintaining the supply of affordable food for families across the UK.
"Poorer households with children spend a much higher proportion of their weekly expenditure on food, meaning that their budgets will be squeezed even further if PPPs are threatened. UK farmers need every tool in the box, including pesticides, if they are to provide high quality, safe, affordable food."