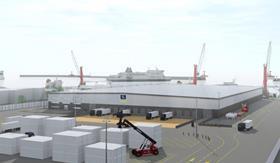 A new £15 million refrigerated cargo terminal in the Port of Dover is set to begin after the dock finalized a construction contract ahead of anticpated freight increases.
The port owners awarded the project to Buckingham Group Contracting Ltd, who are aiming to complete build the 9,630 square metre site by the start of 2019.
They called it "another milestone" of the their Dover Western Docks Revival (DWDR) project, describing it as a "state-of-the-art facility" including eight temperature controlled chambers, with 20 dock levellers to produce a rapid turnaround for customers, ideal for fresh produce and perishables.
Dave Herrod, DWDR programme director at the Port of Dover, said:"The appointment of Buckingham Group represents a significant milestone for the port. Projected increases in cargo volumes present a golden opportunity to further develop the cargo business and this is key to why the port is delivering theDover Western Docks Revivalnow."
Scheduled to open in the first quarter of 2019, the terminal will be served by completely new marine and land infrastructure including two cargo berths and new array of mobile cranes.
During construction of the cold storage site over 70 jobs will be created according to Andy Morris, senior project manager at Buckingham Group Contracting Ltd.
'We are delighted to have been awarded this exciting, high-profile contract," he said.
"We are looking forward to working with the Port of Dover and other contractors to deliver one of the most important cargo projects in North West Europe and support the creation of new jobs for local people."
DWDR is the single biggest investment ever undertaken by the Port of Dover and will help deliver long-term capacity for the key international gateway, which currently handled £122 billion of goods last year, representing up to 17% of UK trade in goods.