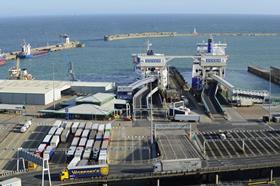 The Port of Dover has been recognised for its efforts before and over Christmas last year to get stranded HGV drivers home when the French border closed due to Covid concerns.
The situation happened just as the port was also preparing to deal with the end of the Brexit transition period, with significant national and international attention already on Dover.
The Kent port was shortlisted by Logistics UK in the 'Outstanding response to Covid' and 'Water Business of the Year' categories for its annual Logistics Awards in recognition of its work together with its ferry operator, sister port and government agency partners.
The awards ceremony takes place on 9 December at Park Plaza Westminster Bridge in London.
Sarah West, chief operations officer at the Port of Dover, said: "The Port recognised how crucial it was that essential goods continued to flow as they have done via Dover throughout the pandemic, but also that the people who deliver them to the UK's consumers and businesses were desperate to get back home to be with their families. I am thrilled that the UK's logistics industry has acknowledged that work and am proud of everyone here who made it happen."
The port's chief executive Doug Bannister added: "Everyone saw the unrivalled speed and scale of response and the inbuilt resilience that exists at Dover in action, made possible by an operation maximising Dover's geographic advantage as the shortest crossing to Europe.
"As clearly demonstrated by the arrival of new ferry operators and new ships, there is renewed market confidence that Dover can still be relied upon as the quickest, most efficient trade route to the UK's largest single trading partner as we continue to support the economy through Covid and beyond Brexit."