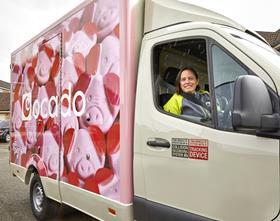 Ocado continued to enjoy strong sales in 2021, with group revenue up 7.2 per cent, but growth was slowed by HGV driver shortages, the retailer announced.
Meanwhile, higher investment in Ocado's automated warehouses and its solutions business, which sells Ocado's technology to other retailers, saw pre-tax loss more than treble from £52.3 million to £176.9m.
Total sales reached £2.5 billion in the year to 28 November 2021 as more people shopped online, with all business segments growing.
Ocado Retail, the joint venture Ocado runs with M&S, contributed £2.3bn, up 4.6 per cent, while UK solutions and logistics grew by 8.6 per cent to £710.4m.
Customer numbers rose by 22 per cent to 832,000, contributing to an increase in orders of nearly 12 per cent, however this was partly offset by a 5.8 per cent reduction in the average basket size to £129.
Growth in orders was constrained in the second half of the year by UK worker shortages, Ocado reported, as well as a warehouse fire in Erith, southeast London when robots collided at a fulfilment centre.
Drops per van per week reduced from 184 in 2020 to 177 in 2021 due to labour shortages in the second half of the year.
The online channel now accounts for 12 per cent of the UK grocery market and research company GlobalData expects online share to increase to 18 per cent by 2025.
Ocado Group CEO Tim Steiner said:'The past year has further reinforced that demand for online grocery is here to stay. In the majority of mature markets, the fastest growing channel is online and to truly win here food retailers need to deliver the best offer with the best economics across all customer missions."
He added: "The new generation of Ocado technology, which we have called 'Ocado Re: Imagined', represents a transformational leap forward allowing our partners to comprehensively out-compete peers online.

'Partners ordering customer fulfilment centres (CFCs) today will be able to go live quicker, at lower cost, and achieve higher margins and return on capital. For Ocado Group, this means a bigger addressable market, the opportunity to win new partners more quickly, and fresh opportunities to accelerate growth."
Ocado accelerated its opening of new CFCs in 2021, opening five for its Ocado Smart Platform partners and doubling the number of live sites globally to 10.
Overseas, the retailer doubled its number of live international sites to four, with the first two opening in the US for Kroger, in Ohio and Florida. This adds to existing sites in Canada and France, for Sobeys and Groupe Casino.
In the UK, Ocado Retail opened three new sites – a mini CFC in Bristol and two larger CFCs in Purfleet and Andover – increasing their available growth capacity by around 40 per cent.
Ocado said it expects to open a further nine CFCs in 2022, to almost double the number of operational sites to 19. This includes six new sites in the US and one in each of Sweden, Canada and the UK.
The company has already made strong progress towards this target, having gone live with three sites (in the US, Canada and Sweden) since the end of the last financial year.