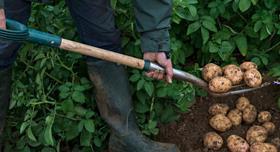 Over 600 children from nine primary schools across Cambridgeshire and Lincolnshire took part in potato planting fun this month in spite of lockdown, thanks to a virtual event organised by the East of England Agricultural Society (EEAS).
Usually taking place at the East of England Agricultural showground, the Grow Your Own Potatoes event was brought to primary school children remotely in March by Kids Country, the educational arm of EEAS, whose purpose is to educate children about the link between field and fork.
Throughout March the Kids Country team, supported by sponsors Albert Bartlett, Westland Horticulture, Evergreen Garden Care and local farmers, provided potatoes and all the necessary equipment to participating schools so that the event could go ahead in-house.
"We are so pleased that the schools have been so motivated to keep their children engaged in the hands-on learning experience that the Grow Your Own Potatoes event delivers, getting their hands muddy and providing an opportunity to monitor the growth of their potatoes over the next few weeks, before the all-important harvest in June!" said Kids Country education manager Sandra Lauridsen.
Participating schools this year include Newark Hill Academy, Dogsthorpe Academy, Folksworth C of E Primary School, Guyhirn C of E Primary School, St Botolph's Primary School, William Law C of E Primary School and Leighton Primary School in and around Peterborough, Cambridgeshire, Bluecoat Primary School in Stamford, Lincolnshire, and also Marston Thorold's Charity Church of England Primary School in Grantham, Lincolnshire.
Cheryl Davitt, early years lead at Newark Hill Academy, said: "We love to be involved with the Grow Your Own Potatoes event as it is a fun, hands-on, engaging event. The children can learn about how potatoes are farmed, the history of the potato and then they get to plant their own - a fantastic way to learn about where our food comes from and how to look after plants. The children also enjoy getting messy! The harvesting day is great fun too, emptying our own pots to find our potatoes and then weighing our crop which we can take home and eat for our dinner."
With a programme of events that usually sees East of England Showground-based Kids Country welcoming thousands of primary school children onto site, the last 12 months has presented a real challenge.
The organisation has worked hard to deliver as many of its usual events as possible, either remotely in schools or as part of home-schooling, to ensure children do not miss out on the field-to-fork message that lies at the heart of everything Kids Country delivers, Lauridsen said.
"It is testament to the hard work of our volunteers, corporate sponsors and supporting farmers, that we have been able to still deliver the Grow Your Own Potatoes event this spring, and we are planning ways to deliver the rest of our 2021 programme within the guidelines of the roadmap out of lockdown," she added.