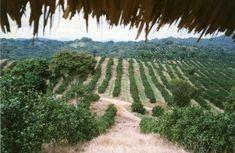 Redbridge Worldfresh sales director, Ian Waller is a seasoned importer of Egyptian berries. He says: "Egypt has developed as an excellent base for commercial production due to its climate, easy access to water and good supply of labour."
However, domestic Egyptian production developments do require intensive management from investors, as Ronnie McNicol, managing director of ReDeva - Redbridge's soft-fruit breeding arm - knows well. "Our company supplies our Egyptian growers with year-round technical expertise and management to ensure the whole system is managed and quality standards are maintained," he says.
When asked, 'Why Egypt?', McNicol responds: "As strawberry breeders and growers timing is everything. UK strawberry production tapers off in early December, however the demand for strawberries is still strong in the lead up to Christmas and New Year. We needed to find a location that would allow us to supply the market at that time, and have the land, water, labour and growing conditions suitable for strawberry production."
Waller adds: "The growing conditions in Egypt suit a number of varieties and we have seen rapid expansion of production of the better eating varieties such as Tamar and ReDeva's Suzzana, which have helped develop a demand for strawberries in the UK winter."
In 2002, ReDeva established a relationship with the Egyptian grower, Pico, firstly to trial new advanced selections of strawberries and then to grow commercial quantities for the UK market. The first sample trays were sent to retailers in 2003 for a test marketing exercise. A positive response to the samples led to commercial plantings (22 hectares) of the new variety Suzzana, a large sweet strawberry grown specifically for the UK market.
"Developing large commercial trials ensures Redbridge has sufficient quantity to test the market," McNicol says. ReDeva is also trialing four new advanced selections, which have already been registered in order to protect these varieties worldwide.
The breeding-growing-marketing integrated system has allowed the company to continually find material for cutting edge new varieties.
McNicol says: "The infrastructure is quite good and reasonably well organised in Egypt, not like some other fresh produce countries where European companies are trying to establish growing operations. However, we have a lot of input into the system to ensure management and product delivery is right."
Despite, or perhaps because of, the necessary management input into production and quality, ReDeva remains committed to its partner Pico. Having recently signed a master licence agreement, allowing Pico to protect the ReDeva licence in Egypt, Pico can now sub-licence, with ReDeva's permission, strawberry varieties to other growers in Egypt.
Waller explains: "Redbridge works exclusively with Pico. The attention to detail and dedication to ongoing innovation and improvement make Pico a pleasure to work with."
By using hand-breeding techniques rather than the more controversial genetic-manipulation process, ReDeva avoids consumer issues surrounding GM technology, to have a marked global impact on the berry market.
The ReDeva/Pico partnership is one example of the type of external support that Egypt has harnessed to significantly expand both its soft-fruit and citrus industries.
Strawberry production has increased from 26,000 tonnes to just under 70,000t in the last 10 years, with a large proportion of this production being destined for the most favoured export markets of the UK and Europe.
The season this year has been better than expected, with both yield and quality up year-on-year. Favourable weather conditions, improved production and harvesting technology, and improved cultivars have driven this increase. Both growers and exporters expect top prices, as the demand for winter strawberries in the UK and Europe remains buoyant.
"We have a lot of good quality fruit and volumes are expected to remain strong throughout the season," says Moheb Louis Tadros of Michael Trading.
"Although we are unlikely to see such a massive increase in strawberry production again - because of better-managed farms, improved cultivars and irrigation practices - we are however likely to see production continue to increase because of the year-round demand for strawberries in export destinations."
There is a similar story to tell in the Egyptian citrus sector. Harvesting has recently begun, and a lack of strong winds this year has seen citrus groves laden with a blemish-free crop.
In this category too, production has increased dramatically over the last decade, with Egypt now boasting around 143,000ha of groves and producing 2.5mt of high quality product each year. Exports, as a percentage of production, have remained relatively stable in recent years at around 20 per cent.
Most of the citrus production is based in the Delta and newly reclaimed desert lands, with the average grove being 42ha in size. Navel oranges are the most predominantly grown variety, with a harvest period from October to February.
Orange production this year is tipped to come in at around 1.75mt, with exports hitting the 500,000t mark. With such an abundant crop, exporters are expecting to see prices of around £135-£140 a tonne.
While the fresh orange market into Saudi Arabia accounts for some 131,000t of the Egyptian export market, the UK (24,000t) and the EU (35,000t) are considered important markets and areas where growth potential is significant.
Egypt also produces small quantities of mandarins for export throughout the Gulf region, lemons and limes destined for traditional domestic consumption, and grapefruit for the domestic tourist industry.
Unless export demand increases significantly, these smaller citrus sectors are likely to remain focused on the Egyptian domestic market.
The trade relationship between Egypt and the UK/Europe has been well established for many years. The first formal agreement was executed in 1977, and in June this year was updated to the more favourable EU-Egyptian Partnership Agreement, which provides fresh produce exporters with tariff-free supply arrangements.
At the crux of the 2004 agreement is an agreed entry price quota system for fresh produce. However, industry insiders believe this entry price system will have little effect on the exporters as they are inclined to sell product on a cash FOB basis, therefore avoiding many of the sanitary-phytosanitary (SPS) and quality issues.
"The updated agreement will encourage Egyptian producers to export to the lucrative EU market," says Raouf Abdel-Rehman, from the Commercial Office for Egypt, in London. In particular Abdel-Rehman is understandably keen to see further exports to the UK market.
"Egypt has been exporting product to the UK for many years, and UK consumers have confidence in these products. It is now up to the Egyptian industry to encourage tours and promotional opportunities to the retailers and multiples so they can see for themselves what our capabilities are," says Abdel-Rehman.
Some support is already apparent from the Egyptian government with the building of a 4,000 square metre refrigerated terminal for fresh produce at Cairo airport. This terminal has storage capacity of 180t with additional land set aside for future development opportunities. The scheduled cargo flights between Cairo and Stansted have brought about a reduction in freighting costs and a more consistent level of export volumes.
Initially funded by the Egyptian government and the USAID/Egypt programme, the site is managed by EgyptAir under the Horticultural Export Improvement Association (HEIA) banner.
The Egyptian government also provides an export subsidy but uptake has been low as participating exporters are required to handover all foreign exchange earnings to the government.
Government issues aside Egypt has become a preferred market for many UK buyers. Tadros says: "The Egyptian fresh produce industry has major common strengths; fertile soil, warm winter weather, and average labour rates. These conditions, along with modern packing and packaging facilities, and EurepGAP certification, will enable Egypt to become the major source for off-season fresh produce to the UK market."
"There is some concern from the multiples that Egyptian product may not be of the best quality and meet safety and environmental conditions, but we have all the programmes (EurepGAP and individual retailer quality-assurance programmes) in place, including advanced packing technology imported from Europe," says Abdel-Rehman.
Tadros concedes that all is not rosy on the trade relationship front, and the need for long-term supply agreements between growers/exporters and importers/retailers is important if the market is to continue to flourish.
"There is a need for a proper supply agreement between Egypt and the UK to ensure the best quality products, at competitive prices, are available to consumers 12 months of the year," he says. "A reduction in end prices for consumers will increase the potential for further volumes of produce exported from Egypt."
Egypt is definitely a location to watch. With increasing international investment, and technological production and packing advancements, the Egyptian fresh produce sector is poised to enhance its position in both the domestic UK and broader EU marketplaces.
Consumers should be on the look out for more high quality fresh products bearing the "Fresh from Egypt" label on their supermarket shelves in the near future.
UNITED BEHIND PRODUCE
Egypt is joining forces with Israel, Jordan, the Palestinian Authority and countries in the Mediterranean basin to establish in their respective countries modern agricultural infrastructures to produce and export fresh produce that will meet the prevailing quality and safe food standards in Europe and the US.
This US$4 million pioneering project, as announced in an international conference held last week in Tel Aviv, has been initiated by the Andreas Agricultural Development Fund (AADF) at the Peres Centre of Peace in Israel. The project is funded by the Peres Centre of Peace and by major European supermarket chains and the participating countries, which include Tunisia, Morocco, Italy, Malta, Cyprus, Spain and Turkey.
Professor Samuel Pohoryles, head of the AADF, says that the multi-nation project is based on the application of the integrated crop management system, aimed at cultivating fruits and vegetables to conform with the standards and requirements of the European and North American food chains. He added that Egyptian, Jordanian, Palestinian and Israeli scientists have already formulated a plan for cooperation, whereby each country has the option to select the crops that will be an integral part of the project.
"The initiative emerged after we identified the needs and problems that characterise agriculture in the Middle East and North Africa, and realising the potential for cultivating quality produce slated for the European markets," Pohoryles says. He expressed his confidence that farmers who will participate in the project will be able to produce fruits and vegetables that will meet the strict requirements set by the supermarket chains for high quality produce and safe food standards.
"Each country participating in the project will designate an experimental station for examining the crops it intends to cultivate for export. The aim of the project for each station is to develop procedures for efficient and appropriate usage of water and soil, intelligent application of integrated crop management procedures and modern post-harvest technologies, all based on using environment-friendly principles."
A joint committee of experts will follow the procedures in each country and will publish its comments and recommendations.
DALTEX UPS ITS UK FOCUS
One of Egypt's most established fresh produce companies, with experience of more 42 years in the field, Daltex says it has earned its success through its commitment to delivering consistent optimum quality produce and the dedication to its resources, knowledgeable people and fine expertise towards fulfilling its customers' needs.
Daltex believes that trust is the key to building successful long-term relationships with clients. Through sister companies in Germany, the Netherlands, the UK and international networking partners, Daltex has built up a network of European expertise to supplement and support ts extensive portfolio of products.
A company spokesperson says: "From a glorious history towards a prosperous future was Daltex's theme when it decided to form its newest marketing arm in the UK; Hana Fresh (UK) Ltd. Formed 12 months ago, Hana Fresh has enhanced the Daltex presence in the UK through implementing a closer relationship with its clients aimed at providing them year-round client support and not only during the season. Hana Fresh supplies a number of UK customers strawberries and citrus, as well as potatoes, grapes, melons, onions, spring onions and other lines."
With 3,000 hectares EurepGAP certified and two HACCP accredited packhouses, Daltex has spent the last 18 months acquiring land and expanding its product range, with a view to increasing its total exports to the markets in Europe, Asia and Russia.
Having invested e15 million, it now owns an additional 10,000ha of land, with 3,000ha expected to come online in 2008. The company has also installed new packing lines and purchased new computerised palletisers for its citrus offer, which includes oranges, grapefruit and lemons.
As the company's exports increase, so its expansion is set to continue. The expected investment in new sites for post-harvest facilities and logistics for all products is going to exceed e1.5m in 2004. "Daltex constantly improves citrus and all other plantations and adds new varieties. Trial plantations of new easy-peelers and lemons as well as late Navels have achieved notable success," says the spokesperson.
"At a special citrus nursery many varieties of the citrus family are developed, experimented and trial varieties are planted and observed to offer an even broader variety of products in the future. All rootstock is pest-free and grown under state-of-the-art hygienic and modern plantation methods."