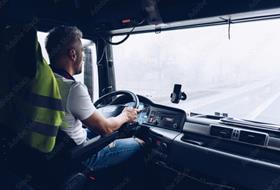 European hauliers are calling on Boris Johnson to solve the UK supply-chain crisis by relaxing rules governing the number of deliveries foreign drivers can make within the UK, known as cabotage.
According to Trans.INFO, 31 Dutch road transport companies and Poland's president of transport and logisticsMaciej Wroński have appealed to the Prime Ministerfor UK cabotage rules to be changed to allow more EU hauliers to support the UK transport market and increase the productivity per truck.
As it stands, the current UK-EU trade deal allows EU hauliers to perform two extra cabotage operations after delivering a load into Britain. This compares to the three cabotage operations that are permitted within EU member states (although 'cooling off periods' limit the amount of times this can be done), Trans.INFO explains.
Given the Brexit border friction and the likelihood of having to come back with an empty load, many European haulage firms feel they would need to do more cabotage in order to make trips to the UK worthwhile.
Maciej Wroński, President of Transport and Logistics Poland, has told Trans.INFO that going back to the previous cabotage arrangement, which allowed for three trips, is the "only solution" for the level of the supply chain problem the UK has. In his opinion, Britain has never been self-sufficient in terms of transport.
Meanwhile, there has been more reaction to the UK's two or three-month visa scheme for foreign drivers. Business group Logistics UK responsed with dismay to the news that the visas announced by government for HGV drivers from the EU earlier this week may be for two months, not three.
Director of policy Elizabeth de Jong said: "The three month visa was much lower than the six months we had requested to enable additional testing capacity to be delivered by DVSA and more drivers to be trained. Our fear is that it is very unlikely that a two month visa will attract EU drivers which would make the scheme impotent. We are seeking urgent clarification from the government on this issue."
Indeed, one Dutch haulier told Trans.INFO that the impact of UK government's measure would "not even be a drop in the ocean". Meanwhile, Zenonas Buivydas, Secretary General of Linava, the Lithuanian Carriers Association, said that Lithuanian drivers are unlikely to be tempted by the scheme.
'At the moment, we do not have any data that would indicate that the drivers would go to the UK to work. We are nonetheless monitoring the situation. It is hard to predict, but it is likely that a two-three month UK work permit will not attract too many Lithuanian drivers.'