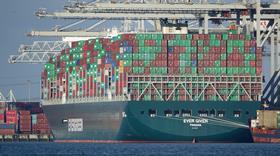 A surge of imports is set to hit European ports following the dislodging of the 200,000-tonne Ever Given ship from the Suez Canal, the Institute of Export and International Trade has warned.
Around 100 container ships with an aggregated capacity of one million TEU were waiting to cross the canal when the jammed ship was eventually freed on 29 March.
While some of that cargo is outbound or empties, on average 52 per cent of canal capacity each week is northbound to Europe, according to the institute.
"From our perspective, it is going to be more chaos and more congestion," said Eleanor Hadland, senior ports analyst at maritime research consultancy Drewry.
A catch-up operation will create more pressure to clear the backlog of empty containers that continue to clog ports.
The situation is even worse on the US west coast where a lack of capacity means ships are having to anchor for up to two weeks before unloading. In Europe, carriers have the option of diverting to smaller, less busy terminals, Hadland said.
The International Federation of Freight Forwarders Associations said disruption of the supply chain was expected to "worsen dramatically" over the coming weeks.This would result in "high delays in shipments, increased costs and product shortages",it warned last week.
Air freight is also operating at full capacity, freight and logistics publicationLoadstarhas reported, estimating that it will take two weeks for the impact of the crisis to "unravel".
"It's like a champagne cork being released," said one forwarder.
Capacity is already an issue with greater use of air for test kits and vaccines, said Ekaterina Andreeva, commercial director for Russian air cargo carrier Volga-Dnepr. She said its partners were booked for all of April and prices are expected to rise.
"We can predict a busy market for a couple of months, but maybe it will lessen over the summer.But rates could be elevated until the end of the year," she said.
As the world looks to the cost of the Ever Given blockage, the CEO of insurance giant Lloyd's of London told theEvening Standardthat losses to the market from the blockage of the Suez Canal would be in the "hundreds of millions" but said that the claims were easier to deal with than Covid.
"It is the very type of loss we are used to," John Neal said. "It will be quite a big marine claim but not particularly out of the ordinary."
By comparison, the pandemic has cost Lloyd's £6.2bn in payouts.