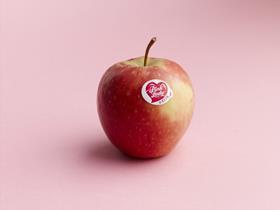 Apple brand Pink Lady has announced a partnership with food redistribution charity FareShare.
The agreement sees the brand committing to a financial donation, as well as providing 50,000 apples in support of FareShare's Summer Appeal, which aims to combat hunger and malnutrition among children and families over the summer
FareShare estimates that organisations supporting children and families will need at least 40 per cent more food over the summer holidays compared to pre-Covid crisis levels. The Pink Lady apples will be donated over the course of June, July and August, and will be distributed by FareShare to charitable organisations and community groups across the country who are in need of nutritious food for the families they support.
Adele Fash, commercial manager at FareShare, said: "FareShare is now serving 25 per cent more organisations providing food to vulnerable children and families than it did before the lockdown began, so we are thrilled to have this donation from Pink Lady apples. Fresh fruit is particularly valuable as we are committed to providing as much nutritious, healthy food as possible for the children and families who rely on these donations.
"With many people facing financial struggles and food insecurity due to the Covid-19 pandemic, this donation from Pink Lady will make a big difference to the communities we support."
Kyla Flynn, PR and social manager for Pink Lady apples, said: "We are so pleased to be able to support the fantastic work FareShare is doing at such a difficult time for many people across the country. We regularly hear from families who tell us that Pink Lady apples are their favourite snack, so we hope this donation of apples, to children and families who are at risk of going hungry over the summer months due to the multitude of difficulties presented by coronavirus, will be a way of showing our support.
'As a brand we believe that every family should have the chance to enjoy the summer as happily and healthily as possible, so we're pleased to be able to support FareShare in this effort."