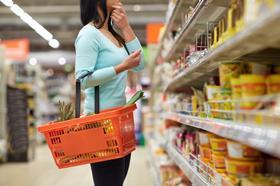 The Food and Drink Federation's (FDF) chief executive Karen Betts warned that the government must act now to ease 'inevitable' food price inflation, during her organisation's annual conference yesterday (22 March).
According to the Grocery Gazette, Betts gave this stark warning to the UK government and British shoppers in her keynote speech, describing Russia's invasion of Ukraine as a "genuine geopolitical, energy and commodity shock".
Addressing an audience at The National Gallery in London, Betts said that President Putin's assault on Ukraine will "have serious ramifications for us all, across Europe and globally", with effects including "rising costs, rising inflation and unpredictable supply chains". She highlighted that food price rises are now "inevitable".
The chief executive used her platform to call on the UK government to act now to ease the supply chain pressures while also supporting the millions of vulnerable households already suffering from the cost-of-living crisis, the Grocery Gazette said.
Betts asked ministers to react quickly and with greater flexibility when ingredients become unavailable. She also called for a National Food Security Council, enabling industry and Whitehall to react in real time to supply chain impacts.
In a statement posted on the FDF website prior to the conference, Betts wrote: 'The government cannot do much about prices in global markets. But it can mitigate food price inflation in the UK and eliminate gaps on shelves.
'We have three suggestions. First, these pressures are unprecedented and the response must be too. Supply chains will be highly unpredictable in coming months. The UK and devolved administrations must allow the industry to use safe, alternative products where ingredients become unavailable, often with little notice. If we are to keep products flowing freely, manufacturers need swift agreement on substitutes.
'Second, the UK's prized food security and resilience must be guarded fiercely. Our manufacturers and producers are in every part of the country — and we want to keep it that way. We need a robust, cross-government mechanism, a National Food Security Council, to work alongside the industry and enable us to respond collectively, and fast, to the impact of supply chain disruptions. Some effects are already clear but others will take longer to understand. We need to react to immediate issues of ingredient and energy costs and the longer-term impacts of fertiliser, petrochemical and CO2 shortages.
'Third, ministers must urgently remove complexity and cost from upcoming regulation. Businesses must be able to focus on keeping afloat and feeding shoppers. From new packaging rules to where food promotions can be placed in shops, we urge ministers to pause, reflect and consider whether regulation is fit for purpose — and whether now is the time to pass additional costs to consumers.
'The government has more power over how the crisis in Ukraine affects the UK than it thinks. It should use this power wisely.'