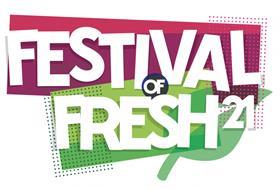 More than 60 experts from across the fields of production, supply, business, retail, science and health will come together on Tuesday 13 July at the inaugural Festival of Fresh.
The new, free online event on 13 July is a celebration of the UK fresh produce industry and puts the spotlight on industry issues, new technology, best practice and business leadership, helping to take the sector to the next level. The Festival is organised by FPJ and is backed by the NFU, British Growers, British Apples & Pears, British Summer Fruits, The National Fruit Show and Worshipful Company of Fruiterers.
Festival of Fresh allows registered delegates to build their programme of content to match their personal interests, with videos available to watch on-demand after the event. There are opportunities to chat, interact and network using Fruitnet's advanced event platform.
Two simultaneous tracks of content focus on Business & Industry and People & Places, with topics as diverse as sustainability, the road to net zero, science, technology and health.
You can see a video preview below, and to sign up visitwww.fpjlive.com.