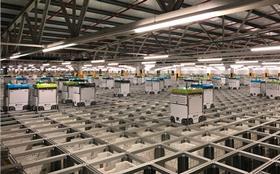 A major fire at a key fulfilment centre has adversely hit third-quarter income at Ocado Retail.
The online grocery specialist suffered a major fire at its Erith Customer Fulfilment Centre on 16 July, and while less than one per cent of the grid was damaged and orders were fulfilled again within a week, the disruption negatively hit revenue during the quarter to the tune of 19 per cent.
'In addition to the need to cancel orders in the week following the fire, the temporary reduction in capacity reduced our abillity to offer slots to new customers,' the company explained. 'Taken together, and net of the offsetting benefit of increasing capacity at other CFCs, we estimate that in the the period we lost a total of around 300,000 orders, or around £35m of revenue, due to the temporary disruption.'
Over the first six weeks of the quarter and prior to the fire, the business had been performing in line with expectations, with revenue down 1.8 per cent.
Ocado underlined the fact that year-on-year comparisons come against exceptionally strong growth during pandemic restrictions last year, which drove consumers online in record numbers.
The pre- and post-fire performance of Ocado Retail, taken together, resulted in a 10.6 per cent revenue decline in the quarter.
Nevertheless, the grocer remained upbeat about its future prospects, predicting strong revenue growth for the full year on the back of increased capacity across its sites and news of a new CFC planned for Luton. A total capacity boost to around 700,000 orders per week is set to be reached.
Chief executive Mel Smith said: 'There is so much to celebrate at Ocado Retail. On 1 September we marked the one-year anniversary of delivering M&S food to customers, marking a transformational partnership between two iconic British brands. We are delighted to see such a positive response from customers to these M&S products, which now represent 29 per cent of the basket.
'We're also excited that the go-live of new state-of-the-art robotic customer fulfilment centres at Andover and Purfleet will significantly increase our capacity to serve customers and experience Ocado's outstanding range, value and service. We are looking forward to another bumper Christmas and an exciting year of growth in 2022'.