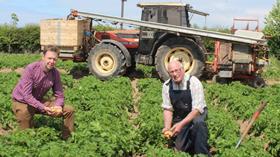 Northern Irish potato producer Wilson's Country has lifted the first of its Comber Earlies on the County Down farm of Hugh Chambers.
The producer's first Comber Earlies of the season were harvested on 11 June and the variety, which has protected geographical indication (PGI), hit retailers' shelves across Northern Ireland today (14 June).
Wilson's Country agronomist Stuart Meredith said: "The recent warm weather, which was preceded by heavy rain, has encouraged tremendous growth within all potato crops.
"As a result, growers are digging earlies this year at around the same time as was the case in 2020. Back in May, crops were at least three weeks behind where they normally would be."
Dunluce is the main early variety grown by Hugh Chambers who also grows Accord potatoes, available later in the season. This year's crops were planted during the first week of March.
"The crops look extremely healthy," Chambers said. "Trial digs indicated that the dry matters of the potatoes are high, meaning that eating quality should be very good. It's too early to tell yet what overall yields will be like."
Potato consumption has surged in Northern Ireland in recent months thanks to Covid-related consumption patterns, and Wilson's County is hoping the rise in home cooking will help boost demand for this year's Comber earlies.