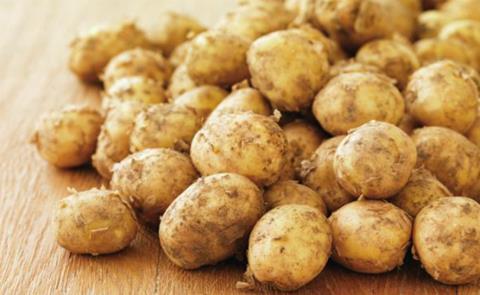 Sainsbury's has said it will be the first major retail to stock new season Jersey Royals with a delivery expected from Wednesday 8 March.
Due to a milder winter than 2016, the seasonal crop will be in stores a week earlier than last spring, Sainsbury's said.
Sold loose for £2.50 per kg, the first volumes were grown under glass and will be available in only two Sainsbury's stores – at Hedge End and Portswood on the south coast.
Availability is set to increase each week dependent on weather conditions, with 500g and 1kg packs due in stores from the beginning of April. Sainsbury's said it expects to sell in excess of four million kgs of Jersey Royal potatoes this season.
Sainsbury's Jersey Royal crop has come from Didier and Christine Helio in the north west of the island, packed through supplier Albert Bartlett.
Sainsbury's potato buyer Elaine Serra said: 'It's great news that we're able to kick start the Jersey Royal season and due to the warmer weather over the winter it's a whole week earlier than last year."
Didier Helio said: 'We have supplied Jersey Royal New Potatoes to Sainsbury's since 2008. Our potatoes are packed for Sainsbury's in a state of the art packing facility, built on the island by Albert Bartlett.
"This investment has revolutionised the supply of Jersey Royals into the UK mainland; during the main season the potatoes are washed, cooled and packed on the same day as I harvest them, this gives real benefits in freshness and quality for Sainsbury's customers.'