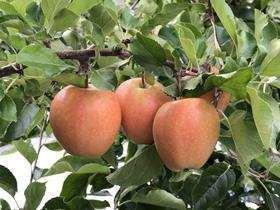 The first Herefordshire-grown Sunburst will hit shelves over the next few weeks as the pink-fleshed English apple brand ticks off another milestone on its development curve.
The sweet, orange-skinned apple with a distinctive tropical taste has been well received by growers and consumers during its first three commercial years, when the entire crop was grown in Kent. This week, Little Peterstow Orchards in Ross-on-Wye has picked its first Sunburst and, packed by Wye Fruit, the fruit will be sold exclusively in Tesco across the country.
Grower Richard Wheeler said: "Sunburst is certainly different to anything I've grown before. It is early days and we're still learning about its unique characteristics, but the internal and external appearance is consistently good and the flavour is outstanding. We have high hopes for it."
The apples are managed and marketed for Wye Fruit by Scion Fruits, which expects to have 200,000 trees in the ground across Europe by 2024. Director Martin O'Sullivan believes the tropical taste profile is a good fit with evolving consumer tastes in the UK and said the first crop picked in Herefordshire is an exciting step forward for the variety.
"We've been convinced by this variety for some time and it takes a lot of patience to wait for volumes to increase so Sunburst can make the impact on the marketplace that we know it will," O'Sullivan added. "We're committed to an aggressive planting programme in England and overseas that will eventually lead to year-round availability. That is still a few years down the line, but the quality of the first fruit Richard has picked in the sandy loam soils of south Herefordshire is, of course, an extremely promising sign that the variety will grow well in varying climates and conditions."
Scion Fruits is the only breeding programme solely focused on British topfruit and already has around 40 varieties at various stages of development.Among themareapple and pearstrains that taste like candy floss, cherries and Fruit Salad sweets.