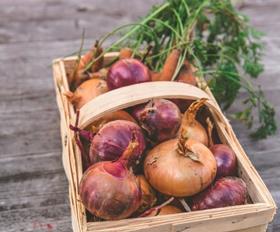 Finance, the future, science and technology and TV promotion will be among the topics up for discussion at the 2019 Onion & Carrot Conference next month.
Taking place at the Cambridge Corn Exchange on 20 November, the conference will open with Allan Wilkinson, head of agrifoods at HSBC, who will give an overview of the critical business issue of securing finance. Andrea Graham, head of policy at the NFU and the author of the recent Future of Food report, will then look to outline the opportunities for UK food production.
Delegates will also get the chance to hear the story behind the highly successful Veg Power campaign, with the campaign's Dan Parker explaining how ITV were persuaded to turn an embryonic veg promotional initiative into a multi-million pound primetime advertising push.
The conference also gets down to the serious technical business of carrot and onion production with presentations from leading UK and Dutch scientists discussing the latest outcomes from their detailed research projects.
Following the presentations delegates will have a chance to unwind with craft beers and onion bhajis before enjoying the celebratory conference dinner, which features carrot cocktails. Guests at the dinner will be entertained by sporting legend, rugby winger John Bentley, famed for his 60m British Lions try on their 1997 tour of South Africa.
"The re-vamped conference, with a great line up of speakers, is taking place in a new and exciting venue, in a world-renowned city which has lots to offer. It promises to be a great opportunity for learning, networking and socialising." said Tim Elcombe, chairman of British Onions.