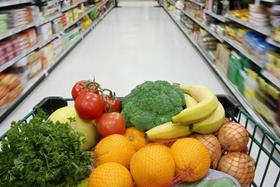 The upward trend in food prices began to lose steam in July as currency pressure eased on the pound following post-referendum devaluation.
Food price rises slowed to 1.2 per cent last month after reaching their highest levels since January 2014 in June, at 1.4 per cent, according to the BRC-Nielsen Shop Price Index.
Meanwhile, overall shop prices fell 0.3 per cent in July, compared with 0.4 in May and June respectively.
The figures were released by the British Retail Consortium (BRC) as rising import costs continue to contribute to higher everyday retail prices following the post-referendum devaluation of the pound. These cost rises have been filtering through since the start of the year, coinciding with pressure on average wages.
Chief executive of the BRC, Helen Dickinson, explained: "July saw lower food price inflation than in June, bringing the march of overall shop prices towards inflationary territory to a half, for now at least.
"Lower food price inflation in July was, in part, the result of the easing of upward pressure from the currency depreciation on fresh food. Shorter cycles in fresh food mean that more of the impact of the currency depreciation fed through into inflation earlier in the year and hence it is now subsiding.
"However, the upward pressure on food inflation has not entirely disappeared: ambient food prices are still affected and as seasonal pricing dynamics play out, we could see fresh food inflation pick up again."
Mike Watkins, head of retail and business insight at Nielsen, added that "the amount of inflationary pressure coming from retail remains less than from other elements of the economy.
'In the last few weeks, whilst we have seen a return to more normal weather, the level of consumer demand remains unpredictable,' he said, 'which means retailers are cautious about passing on price increases, in particular at retail price points."