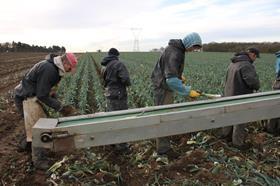 The food industry labour market is 'in crisis', a major new report has claimed.
The latest Association of Labour Providers food industry survey paints a bleak picture of labour supply in 2021, with responses reflecting the impact of the post-Brexit UK immigration system and coronavirus.
It found that some 78 per cent of food businesses do not expect to have sufficient workers in 2021, with 75 per cent believing that due to government policy the food supply chain will not have enough workers who want to fill these types of jobs and will contract, close or, where feasible, relocate overseas.
Over one third are experiencing chronic shortages, while a quarter said they are in crisis and will rationalise or reduce their output.
ALP chief excutive David Camp said: "The food industry is a great sector to work in and the critical role played by our 'UK Food Heroes' in keeping the nation fed was justly recognised during the pandemic.
'Food businesses have invested significantly in improving labour planning, recruitment and retention activities but there are just not enough workers. The government needs to immediately extend the T5 temporary seasonal worker visa to critical sectoral roles such as HGV drivers, meat and poultry processors and work collaboratively with industry on a coherent future workforce and skills strategy".
Grim picture for fresh food producers
The survey focused in on food growers and manufacturers, and found that 70 per cent of businesses experienced shortages of lower-skilled workers in 2020, with 35 per cent describing themselves as 'in crisis' at various points as a result. Shortages were twice as high in unskilled roles as those in skilled roles.
For 2021, only 34 per cent of respondents believe that there will be sufficient UK resident and EU pre/settled status workers to meet the food supply chain's needs. Two-thirds expect their own business to struggle or be in crisis trying to recruit lower-skilled permanent or temporary workers.
Some 4 per cent of businesses said they are concerned they may become unviable due to labour shortages.
Automation (45 per cent), more agency labour (44 per cent) and reducing output (26 per cent) were the remedies most commonly cited by businesses to address the situation.