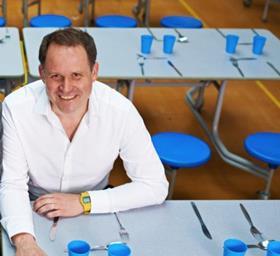 Free school meals should be offered to many more children across Britain to avoid a crisis of hunger and diet-related illness, the new National Food Strategy has recommended.
Part One of the much-anticipated report, headed by Henry Dimbleby, contains what are described as urgent recommendations to support the country through the Covid-19 pandemic and prepare for the EU exit transition period.
Dimbleby's recommendations broadly cover two main themes: ensuring the most disadvantaged children are properly nourished, and deciding what kind of trading nation the UK wants to be going forward.
On the first topic, Dimbleby wants eligibility for the Free School Meal scheme to include every child up to the age of 16 from a household where the parent or guardian is in receipt of Universal Credit.
The Holiday Activity and Food Programme should be extended to all areas in England, and the value of Healthy Start Vouchers should rise to £4.25 per week, with the scheme expanded to every pregnant woman and all households with children under four where a parent or guardian is in receipt of Universal Credit.
"I am delighted that in the last week the CEOs of the Co-op and Waitrose have agreed, in principle, to supplement these vouchers with additional free fruit and vegetables," Dimbleby wrote. "Most of the other major supermarkets and convenience stores are keen to follow suit and we are in discussions with them to explore mechanisms for delivery."
The report also calls for the Food to the Vulnerable Ministerial Task Force to be extended for a further 12 months up until July 2021, collecting data and supporting those who cannot access or afford food.
Meeting the UK's core standards
The second half of the report focuses on Britain's future trading relationship with the rest of the world, putting this into context of the country's high environmental and animal welfare standards. Acknowledging that blanket legislation demanding other countries meet the UK's food guidelines would make it difficult to agree any trade deals, Dimbleby instead proposes that government only agree to cut tariffs in new deals on products that meet the UK's core standards.
Verification programmes should be established sot that producers wishing to sell into the UK market can prove they meet these minimum standards, which must hit a variety of animal welfare, environmental and climate levels. The core standards should be defined by the newly formed Trade and Agriculture Commission.
Dimbleby also called for the government to adopt a statutory responsibility to commission and publish an independent report on any proposed trade agreements, and to adopt a statutory duty to give Parliament the time and opportunity to properly scrutinise any new trade deal.
Part Two of the National Food Strategy is expected to take a long-term view and provide a comprehensive plan for transforming the UK food system.