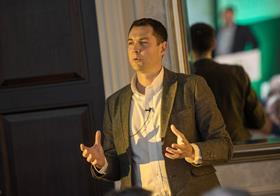 Former Produce Investments marketing director Leon Mundey has launched a management coaching service to help agrifood SMEs scale up and reach their full potential.
As part of a global coaching business called Scaling Up, Mundey is teaching managing directors and company owners the key pillars of a business strategy book by the same name.
Written by American business guru Verne Harnish, the book is reported to have been used by tens of thousands of companies around the world, offeringpractical tools and techniques "for building an industry-dominating business".
The Scaling Up training programme is focused on helping SMEs with an executive board progress to the next stage in their development, with Mundey highlighting the fact that only four per cent of the UK's 150,000 agrifood businesses have a turnover of more than £1 million.
"Most businesses, across most sectors, will stall at a turnover of around £1m and stagnate between £1m and £10m – it's called the Valley of Death," Mundey said.
"Lots of businesses in the fresh produce sector will just carry on turning over the same amount of money year after year, depending on the pressures in the industry. This is about letting those companies know there's another way, and it would be really rewarding for me to help them."
Mundey stressed that coaching is not common at an executive level in the fresh produce industry, but can be vital to a company's success, with even the likes of Amazon's Jeff Bezos receiving guidance from a coach.
"You get lots of training programmes in agrifood businesses for junior people," he said, "but you don't get anything for the senior people, and it's those folks that need to be really sharp and know all those hacks to help the company grow."
According to the book, and Mundey's own coaching, there are four main decision areas that every company must get right: people, strategy, execution, and cash.
"Have you got the right people in the right roles in your company? Have you got a clear strategy that you regularly refer to and that addresses your longer-term objectives? Are you holding people accountable to delivering your longer-term vision? And do you know how you can get cash out of your business and fund it yourself?" Mundey asked.
According to the former potato marketing director, recruiting the right people is probably the biggest challenge for most fresh produce businesses.
"At senior level, people have often been in the business for a long time, and it's traditionally been quite difficult to attract new people to the industry," he said.
"It can be quite male; it's not as diverse as other industries; and a lot of businesses are based quite remotely, so attracting really good people can be hard.
"I think Covid-19 has opened people's eyes to the potential of bringing people into their business that aren't local, so there's a big opportunity there."
Mundey is currently working with a tea producer, an agritech business, and a farmer-baker, but said he is keen to work with more clients.
He plans to host free roundtable sessions with fresh produce chief executives in the coming weeks to introduce them to the Scaling Up coaching programme and hopefully generate interest in his new business.
The coaching typically takes the form of a two-day off-site strategic session (if allowed by social distancing restrictions) followed by monthly meetings for a year or more.