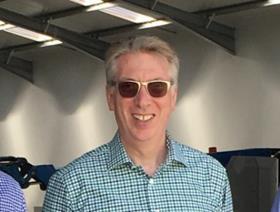 Fresh produce linchpin Alan Forrester this week stepped down as managing director of Greenyard Fresh UK, thereby announcing his retirement.
Forrester's 22-year career in the fruit and vegetable sector,has spanned both retail and supply, mainly in the UK but also in Holland and Asia.
He has shaped the direction of the Greenyard Fresh UK business since taking over as MD in 2015, establishing a strong topfruit category in addition to the known Greenyard categories of stonefruit, dried fruit, tropicals and avocados.
Following Forrester's departure, Greenyard will be actively seeking a new managing director over the coming months.
Marc Zwaaneveld, joint CEO of the Greenyard Group, will support the UK business on a more direct and frequent basis in the UK office, and in the interim period, Giles Armstrong, presently finance director, will lead the business.
Alan Forrester said he was thankful to Zwaaneveld for the support he has given the business over the short time they have worked together, adding that he was grateful to his team in Spalding, where Greenyard Fresh UK is based.
"The business is only as good as the team you have that is supporting you," he said. "I am so proud of the people who have helped us to bring the business to be recognised as a leader in our field. I will miss seeing and working with them all.
"The support and direction that Marc will bring to the business will be invaluable. Marc sees the customer interaction as crucial to our success and will be investing accordingly. I wish everyone at Greenyard Fresh UK all the success they deserve in a tough and exiting market place."
In addition to Forrester's departure, commercial director Doreen Spikings will leave the business in October "to take another challenge that fits better to her current needs".
Alan Forrester praised Spikings' contribution to the business, saying she "has been an asset to the business and we will be sorry to see her go."
The company will look for a new commercial director to take on Spikings' responsibilities, which will be covered in the interim by experienced sales and insight director Melanie Womack, who joined the business earlier this year.
Commenting on Greenyard Fresh's ambitions going forward, Zwaaneveld said the business wants to "focus even more strongly on customers' needs" and build "bespoke solutions to the benefit of both parties".
"Greenyard has a strong belief in the future of the UK business and sees the opportunity that Brexit will bring as a significant platform for growth," he added.
"The team has been planning for Brexit for a number of years now and feels well positioned to support our customers in what the future will bring."