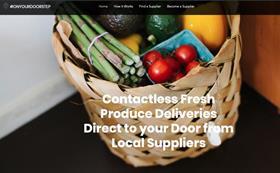 The Fresh Produce Consortium has launched a new online platform to connect fruit and vegetable suppliers directly with consumers.
Onyourdoorstep is a free-to-use service whereby fresh produce suppliers can register their business and list which produce they have available. Local consumers can then connect directly with them to arrange contactless delivery.
The scheme is open for businesses at www.onyourdoorstep.shop, where they can register their details on the 'Become a Supplier' section. It will open for consumers on 1 April.
"We desperately need to support the fresh produce supply chain and keep it moving during these challenging times," said FPC chief executive Nigel Jenney. "We are encouraging local suppliers across the UK to sign up and take advantage of this valuable free service where we can connect them with local customers.'