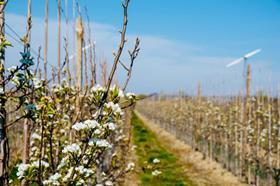 IPM firm PheroSyn has secured Innovate UK funding to scale up production and distribution of its novel pest pheromones to tacklepear gall midges and pear leaf midges.
The £0.5 million project is a 36-month collaboration with agricultural research institute and Andermatt Biocontrol UK, which supplies biological-based plant protection and pheromone products to farmers and growers.
Midges are a major fruit pest globally andcurrent management of midges usually involves the application of fossil-fuel based chemical pesticides that impact negatively on beneficial insects and the wider environment.
PheroSyn's approach is part of a global trend to move away from a reliance on chemical pesticides in favour of pheromone-based integrated pest management (IPM) strategies.
PheroSyn will work with Rothamsted Research and Andermatt to develop sex pheromone systems to trap pear gall midges and pear leaf midges, and secure three years' field trial validation to demonstrate their efficacy.
Importantly, the project also includes end-user validation, and the establishment of a supply chain for R&D, manufacture and distribution of the products to farmers and growers.
Pheromones are a critical component of IPM, but compared with other crop pests, there are currently very few fruit midge pheromones available. This project will build on recent technological advances at PheroSyn and Rothamsted Research.
The partners will develop green chemistry-based production routes for commercial scale production of the pheromones using renewable feedstocks.
Efficacy of the pheromone products in trapping and monitoring midge populations in fruit production systems will be confirmed by Andermatt.
The new pheromones are planned to be available for use in IPM fruit production systems from 2023.
"This is really great news for Rothamsted to see its public-funded crop protection research being turned into benefits for food producers and the general public", said Dr Mike Birkett, principal research scientist in protecting crops and the environment at Rothamsted Research.
"It highlights our commitment to developing pheromone-based solutions with the potential to improve overall productivity, sustainability and resilience in food production systems, and move the existing horticultural sector to net zero."