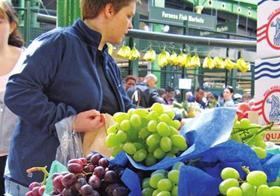 Borough Market is revamping its fresh produce offering with a new layout highlighting the seasonality of fruit and veg.
Borough's Three Crown Square and entire Green Market area will be dominated by producers and produce sellers following the new layout, which includes the opening of the Borough Market Kitchen.
The kitchen will open In Jubilee Place, a space at the north end of the Market, where 20 stands will serve up an extensive menu of freshly prepared food, both hot and cold, which can be enjoyed at large communal tables.
'Borough Market believes that food is for sharing: through creating dishes by professional chefs and home cooks; through exchanging ideas with expert traders and producers; or by simply meeting with others to enjoy eating together and creating memorable moments,' said Darren Henaghan, managing director, Borough Market.
'The last 21 years in our 1,000-year history has seen us move from wholesale to becoming a world class public food destination, and it's fitting that we celebrate our modern coming of age by expanding what we do best – fresh produce, expertly sourced and shared in a vibrant communal atmosphere."
All 20 stands relocating from the Green Market, as well as several new ones, have been selected for the quality and provenance of the skill and creativity of their cooks.
A high proportion of the produce used in the their dishes will be sourced directly from the Market's produce traders, a supply chain measuring just a few metres.
In line with Borough Market's sustainability commitment, the Borough Market Kitchen will be entirely free of single use plastics, and the tables and seating will be constructed from sustainably sourced materials.